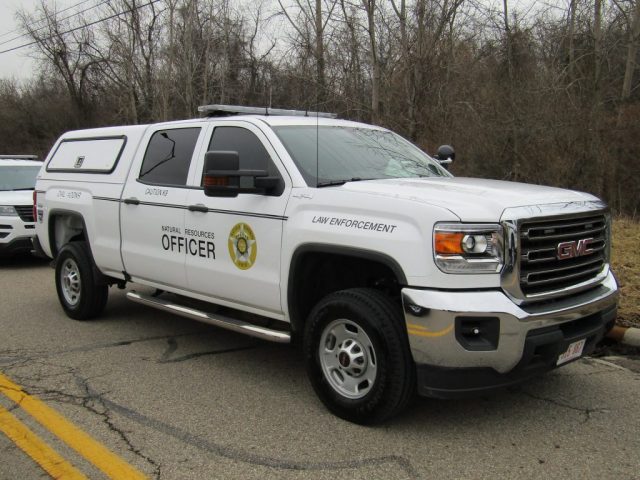 Central Ohio – Wildlife District One
State Wildlife Officer Adam Smith, assigned to Logan County, received a complaint of a coyote caught in a snare. Officer Smith investigated the incident and located several illegally set snares, one of which contained a dead coyote. The snares were untagged and had not been checked for eight days. Officer Smith located a suspect and issued a summons for failing to check snares daily. The individual paid $200 in fines and court costs.
Northwest Ohio – Wildlife District Two
In February, State Wildlife Officer Nathan Kaufmann, assigned to Richland County, and K-9 Officer May attended a Junior Naturalist Program event at the Ohio Bird Sanctuary. A group of 12- to 18-year-old students with an interest in the outdoors attended. Officer Kaufmann spoke about his background and his experience with natural resources jobs. He also talked about other career options within the Ohio Division of Wildlife and gave an overview of the K-9 programs. After the talk, K-9 Officer May demonstrated her ability to assist in poaching cases by locating hidden ginseng.
Lake Erie Investigator Kevin Good and State Wildlife Officer Matthew Bourne, assigned to Clark County, patrolled Lake Erie near the Michigan border in June 2022. The officers contacted a vessel with several anglers. The captain of the vessel was found to be guiding the group, but he did not have a valid Ohio guide license. The individual hadn't held a guide license in more than 10 years, although he had guided the entire time. Investigator Good issued the captain a summons for acting as a fishing guide on Lake Erie without a guide license. The captain was found guilty of the offense in Oregon Municipal Court and ordered to pay fines and court costs.
Northeast Ohio – Wildlife District Three
State Wildlife Officer Jason Warren, assigned to Lake Erie, contacted three anglers aboard a boat who were returning to a boat ramp in Ashtabula. Further investigation revealed that the individuals were on their second walleye fishing trip of the day and had each taken six walleyes over the daily bag limit. Officer Warren issued summonses into Ashtabula Municipal Court, where the anglers were found guilty and ordered to pay a total of $1,185 in court costs, fines, and restitution.
During March, State Wildlife Officer Scott Cartwright, assigned to Carroll County, assisted with the capture and sampling of more than 150 sportfish for routine disease testing at Leesville Lake. Following the sampling, Officer Cartwright donated the fish carcasses to Gryphon Den Raptor Rescue. The fish will supplement the diet for recovering birds of prey.
Southeast Ohio – Wildlife District Four
In 2022, State Wildlife Officer Mark Basinger, assigned to Perry County, contacted an individual who was suspected of a ginseng digging violation. The suspect was charged with digging a two-pronged ginseng plant and digging ginseng on private property without permission. In Ohio, ginseng plants which have less than three-leaf stems (prongs) may not be harvested. The suspect pleaded no contest, paid $340 in fines and court costs, and was prohibited from digging ginseng or other medicinal plants for one year.
State Wildlife Officer Cole Tilton, assigned to Vinton County, received an anonymous tip regarding several white-tailed deer that were shot in June 2022. Officer Tilton and State Wildlife Officer Bob Nelson, assigned to Ross County, followed up on the complaint. The officers interviewed several people and found five buck heads with antlers in velvet. The officers seized several firearms and thermal optics. The suspects were ordered to pay around $3,000 in fines and restitution, forfeited several firearms, and received hunting license suspensions.
Southwest Ohio – Wildlife District Five
State Wildlife Officer Mark Schemmel, assigned to Auglaize County, provided a safety talk at the annual Light Foundation Youth Turkey Hunt. Approximately 100 people attended a celebration dinner and 17 youth hunted during the event. The event included an instructional turkey hunting seminar and a mentored turkey hunt. Young hunters had the opportunity to learn all the aspects of a safe hunt including calling, setting up, identifying your target and what's beyond it, wild turkey biology, and turkey hunting regulations. Former NFL player and Darke County native Matt Light and his wife, Susie, established The Light Foundation to use the outdoors to cultivate young, confident leaders.
State Wildlife Officer Brad Turner, assigned to Preble County, and State Wildlife Officer Andrew Dowdell, assigned to Butler County, patrolled Rush Run Wildlife Area. The officers encountered two individuals without personal flotation devices (PFDs) who were on a paddle board. The officers issued summonses for neglecting to wear a PFD and educated the pair about the dangers of falling in cold water.