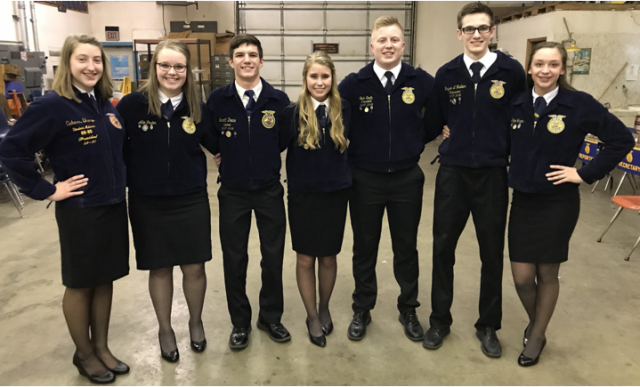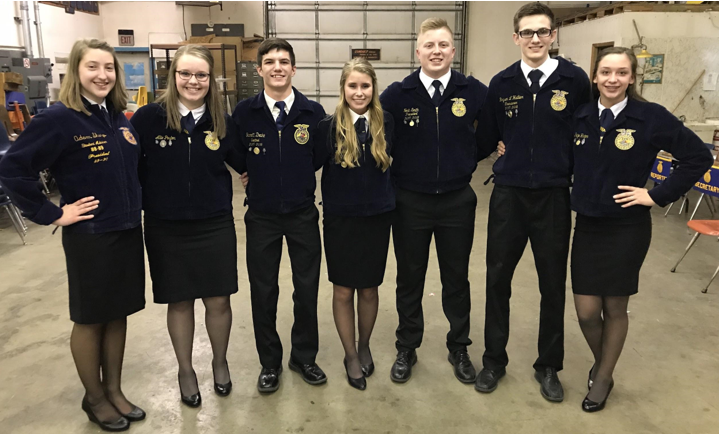 AMANDA-CLEARCREEK FFA — On February 20th, the Amanda-Clearcreek FFA held their annual officer elections meeting. This year there were three retiring seniors and 15 candidates ready to take on their roles. This year was record-breaking for the chapter in the number of officer applications submitted with 16.
The new officers elected were Noah Smith as President, Ellie Sahr as Vice-President, Sydney Sharp as Secretary, Bryson L'Huillier as Treasurer, Allie Poston as Reporter, Garrett Drake as Sentinel, and Paige Hinton as Student Advisor.
These individuals were chosen by their peers to represent the A-C FFA Chapter for the next year ending in February of 2019.
Being an officer can be a lot of work and requires even more dedication to the organization. As President, Noah Smith will not only reside over chapter meetings, but he will also represent the chapter at a variety of functions. As Vice-President, Ellie is in charge of committee work, as well as helping Noah when needed. Sydney is in charge of keeping the minutes for all chapter meetings and keeping track of the attendance of chapter activities as the Secretary. Bryson, the treasurer, is in charge of all costs and expenses that pertains to the chapter. As the Reporter, Allie has the responsibility of publishing newsletters monthly to inform the chapter's members and community of the upcoming and previous activities. In addition to this, she will also be in charge of completing the chapter scrapbook. The duty of the Sentinel, Garrett, is to greet the members as they enter each monthly FFA meeting as well as assist the other officers and Chapter Advisors in other activities as needed. Paige as the Student Advisor, will be a role model for the other members, give advice when needed, complete monthly news releases, and aid the other officers when they request her assistance.
In order to complete all of their work, the officers select assistants. The assistants for 2018-2019 are, Jullian Scott, Emmalee McGee, Morgan Anderson, Kaylee Sharp, Stephanie Bowers, Timothy Smith, and Olivia Hutchison.
Each assistant is assigned to a specific office, Jullian will be serving as the Assistant at Large, Emalee will be serving as the Assistant Vice President, Morgan will be serving as the Assistant Secretary, Kaylee will be serving as the Assistant Treasurer, Stephanie will be serving as the Assistant Reporter, Timothy will be serving as the Assistant Sentinel, and Olivia will be serving as the Assistant Student Advisor.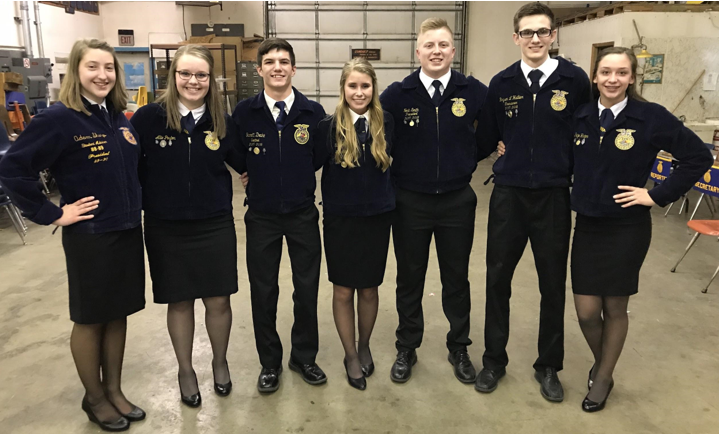 Pictured from left to right are: Sydney Sharp, Allie Poston, Garett Drake, Ellie Sahr, Noah Smith, Bryson L'Huillier and Paige Hinton.