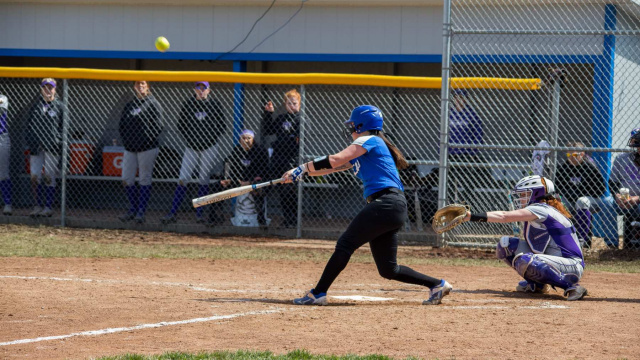 CIRCLEVILLE, OH – After having their previous twelve games canceled due to weather, the Lady Trailblazers took to the field on Tuesday hoping to find their winning ways as the season nears its end. The schedule would resume with a home double-header against the Harriers of Miami University-Hamilton. Both games would turn out to be quick work for OCU, as the Lady Trailblazers would shutout the Harriers while pushing across 18 runs over 10 innings to sweep the series.
In Game One, Whitney Fiedler would take to the hill, dominating the Harriers by allowing only two hits over four innings while striking out four batters. On offense, the Lady Trailblazers would get off to a hot start, scoring all 10 runs over the first three innings to build their lead. Junior Jenna Higgins would lead the charge for the team, finishing with three hits and three RBI's which would lead the squad in both categories. Senior Kayla Zimmerman would also provide a boost on offense, plating two runs and scoring three times.
Game Two would prove to be much of the same, as Freshman Rachel Kennedy would dominate the Harriers' lineup by allowing only one hit over four innings while striking out seven. Kennedy would be relieved in the fifth inning by Sophomore D'Lani Swackhammer, who would get the final batter to fly out with the bases loaded to secure the win. Senior Caroline Rice would power the offense in Game Two, finishing the night with four RBI's on two hits.
Next up, the Lady Trailblazers will hit the road for an eight game road trip beginning tomorrow with a double-header against the University of Cincinnati-Clermont. The team will then travel to face RSC opponents Brescia and IU Southeast over the weekend.
For more on the Trailblazer Softball program and the rest of OCU Athletics, follow us on Twitter (@OCUtrailblazers), Facebook (Ohio Christian University Trailblazers), and YouTube (Ohio Christian University TraiIblazers)