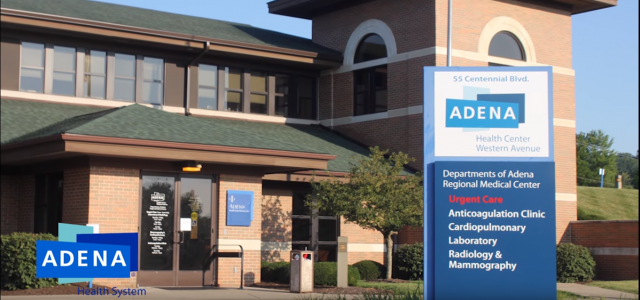 CHILLICOTHE – In 2017, Adena Health System experienced its share of strategic change and growth that has ultimately laid a foundation for its future and its care for the people of Chillicothe, Ross County, and nine additional counties throughout south central and southern Ohio.
Amongst the most significant for the Health System was the selection of Jeff Graham as the Adena's new President and Chief Executive Officer (CEO) in June. Graham returned to Adena after most recently serving as President and CEO of Mercy Health's East Market in the Cincinnati area. Graham was previously with Adena Health System from 1999-2012 in roles including: CEO & Administrator for Adena Greenfield Medical Center; Chief Operating Officer; and Chief Strategy Officer.
"Adena is unique in its position as an independent health system, and the opportunities for continued success are endless," said Graham. "Moving into 2018, we will be focused in strategic areas to achieve growth and continue to be part of the fabric of the communities we serve. This includes how we can work with others through partnerships to give patients the greatest access to quality care and strengthening our network of providers."
He added, "We have also heard our patients and community members loud and clear and we are continuing to make meaningful and marked improvements in our Emergency Department throughput time. We want Adena to be top-of-mind and the patients' first choice when they have a health care need."
A look back on Adena's community-focused care includes expanded services throughout the region and growth, giving patients state-of-the-art care and keeping them close to their homes.
In 2017, Adena Regional Medical Center was named one of the nation's 50 Top Cardiovascular Hospitals by IBM Watson Health. The study identified the top U.S. hospitals for inpatient cardiovascular services, based on hospital performance metrics that identify the highest performing cardiovascular service lines in the nation. The national recognition came on the heels of Adena preforming its 1,000th open heart surgery.
Just shy of its fifth year anniversary, Adena's Robotic Surgery Program reached a milestone of its own this year completing its 2,000th surgery. Since the program began in October 2012, it has transformed from an upstart to becoming nationally recognized as an "Epicenter of Excellence", one of only four in Ohio. When it began, Adena used robot-assisted surgery for only eight types of surgeries. Today, Adena is capable of performing 26 types of robotic surgeries using the daVinci Surgical System. In 2018, plans to further expand and upgrade the Health System's daVinci technology will provide even greater levels of care.
More recently the Health System has expanded its Robotic Surgery Program becoming the first in the region to offer robot-assisted orthopedic surgery. A new set of Stryker's Mako Systems now gives Adena's orthopedic surgeons the option to offer robot-assisted total knee, partial knee and total hip replacements.
Leading with cutting-edge technology was a theme for Adena's Bone & Joint Center (ABJC) in 2017, as Adena became the first in Ohio to utilize the ClearEdge toolkit as a way of caring for high school athletes who have head injuries. The system incorporates balance and cognitive tests tracking symptoms related to concussions. Adena's work with local high school student-athletes grew during the year as well; expanding its athletic training services to Huntington (Ross County) and McClain (Highland County) High Schools increasing the Health System's coverage to 11 area schools. The program, now in its 16th year, is free to the school districts.
Making health care as convenient as possible is part of creating a health system that always put the needs of the patients first. In 2017, ABJC and Fayette County Memorial Hospital (FCMH) partnered to expand orthopedic and pulmonary services in the region, as ABJC providers began seeing patients at FCMH, located in Washington Court House.
New locations opened too throughout the region such as Adena Cardiopulmonary Rehabilitation, Adena Rehabilitation – Hillsboro, Adena Family Medicine – Bristol Village and Adena Family Medicine – Main Campus were added in 2017.
Recognizing the important role Adena plays in building healthy and thriving communities, the Health System hosted an Opiate Summit in March to engage local, state and federal representatives in achieving next steps to solve the community's addiction crisis. Adena also continued its successful free community Walk With a Doc program, conducted their successful Diabetes Expos series in Jackson County for the first time ever as well as hosted physician-led community speaking engagements monthly on various health topics affecting the region.
Among the other patient-focused initiatives this year, Adena Health System's Laboratory underwent a pricing structure change where now more than 80 percent of Adena's Lab prices are below the state average helping patients better manage higher deductible health care plans.
Adena's accountable care organization (ACO), the Adena Healthcare Collaborative LLC, received its Medicare Shared Savings Program (MSSP) results for Performance Year 2016, earning a near perfect score for overall quality of 96.49 percent. As a result, Adena's ACO saved taxpayers more than $9.4 million over the course of 2016, by providing quality care and oversight of a Medicare-covered patient population that includes 9,012 people in our region.
Adena Health System earned its share of recognition throughout the calendar year as well. In March, Adena was named a Becker's Hospital Review "150 Great Places to Work in Healthcare" for a second consecutive year. In July, Adena was awarded accreditation from The Joint Commission for an additional three-year period and earned The Joint Commission's Gold Seal of Approval for Hospital Accreditation, a symbol of quality that reflects an organization's commitment to providing safe and effective patient care. The Health System was also recognized nationally as one of just 10 hospitals nationwide for innovative approaches that are impacting lives in local communities. This special acknowledgement was in recognition of Adena's Centering Pregnancy and Baby-Centered Recovery Programs, which received the "Program of Excellence" award for their work with moms-to-be who are addicted to opiates.
As a teaching hospital, Adena's Graduate Medical Education (GME) program achieved a major milestone in 2017. The Accreditation Council for Graduate Medical Education (ACGME) awarded initial accreditation to Adena's Emergency Medicine (EM) Residency Program. This means all four of Adena's GME programs – Internal Medicine, Emergency Medicine, Family Medicine and the Transitional Year Internship Program – have now earned ACGME accreditation status. Today, Adena have 51 residents in the GME program, up from six residents just five years ago.
As Adena Health System looks ahead to 2018, its ongoing commitment to providing quality care to patients and families near their homes and where they work will continue to take shape. The summer of 2018 will see the completion of Phase 1 of Adena Regional Medical Center's (ARMC) Emergency Department expansion and renovation project nearly tripling the size to 59,000 square feet providing all private rooms, more exam areas and shorter overall wait times. This project is the result of listening to the community and best meeting their care needs in the fastest, most efficient and caring way when they need it most. Since August, changes implemented at ARMC's Emergency Department have already resulted in patients seeing providers sooner and faster testing results.
"Our primary focus in the coming year and moving forward is for Adena Health System to be the primary health care destination for people who live here," said Graham. "Building and strengthening trust with our patients and communities with every encounter."
For more about Adena Health System and its services, visit adena.org or follow us on Facebook, Instagram, or Twitter @adenamedical.