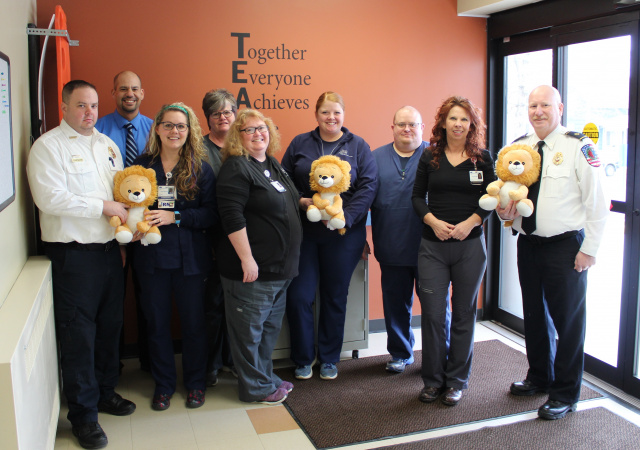 GREENFIELD (April 2, 2018) – A group of lions is referred to as a pride. However, there may not have been any bigger sense of pride than that shown recently by officers with Rescue 101 Search & Rescue, a statewide volunteer disaster response assistance group, when they delivered 150 stuffed animal lions to Adena Greenfield Medical Center (AGMC). The group's recent donation was the culmination of four months of fundraising efforts to assist members in purchasing the toys for pediatric patients seen at AGMC.
"Our organization has always been heavily involved in community outreach. We had seen similar programs like this being done in hospitals across the Midwest, but nothing here locally," said Chief Andrew Surritt, Rescue 101 Search & Rescue President. "It's our hope that Rory the Lion can bring some smiles and comfort to children who are here at the hospital, and will make their stay a little more enjoyable."
The Rory the Lion plush was introduced by Avon as a fundraising mechanism for organizations. The Rescue 101 team began its fundraising efforts last November, on Black Friday, when they conducted an 18-hour "Fill the Boot" drive in Chillicothe. The monies collected through that drive, combined with contributions from area businesses resulted in the group being able to purchase more than 200 stuffed animals. Along with AGMC, the gifts will be distributed at Nationwide Children's Hospital, and to other pediatric patients through prior requests.
"We are so appreciative of what Andrew and the Rescue 101 team has done to help our young patients," said Josh McCoy, AGMC Administrator. "In the past, our hospital has distributed stuffed animals to children visiting us through our volunteer program funds. This donation not only provides us with a high quality toy that the children will love, but allows us to use that existing funding in other areas of the hospital for clinical care."