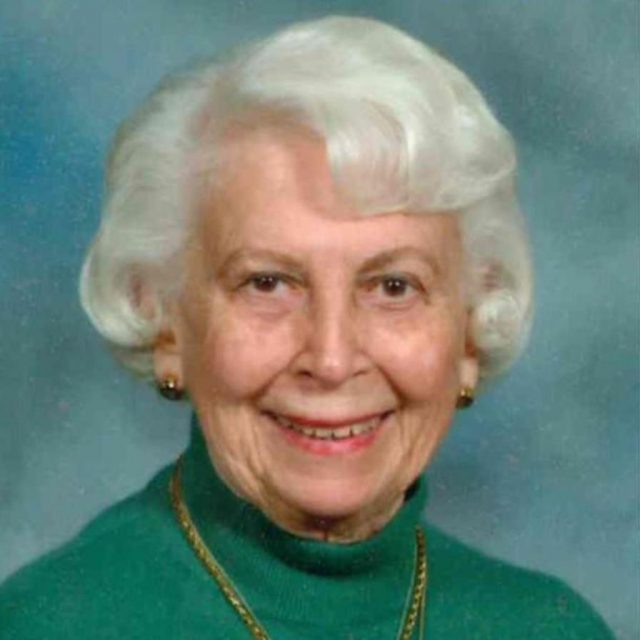 Ada Isabelle (May) Burke, 99, lifetime resident of Circleville, Ohio, passed peacefully on September 18, 2021, in her home surrounded by loved ones. She is preceded in death by her parents, Percy and Isabelle May, her husband George Burke, sister Sally May, brothers Robert and Tom, and close cousins Don and James Curl and Maryanne Miller.
Ada was born May 16, 1922, in the same home that she lived in all her life. She attended Circleville High School and graduated from The Ohio State University with a degree in accounting. Ada worked for many years as comptroller for Glick's Furniture and as an accountant for Ralph and Curl, Engineers. In addition to her accounting career, she maintained an active farm, in partnership with the Hartsock family, and utilized modern conservation practices in the production of corn and soybeans.
Ada was an inspiration to so many through her participation in many organizations, including being the treasurer of the Circleville Garden Club, member of the Circleville Historical Society, Circleville Monday Club, Pickaway Country Club, American Legion Auxiliary, The Ohio State University Buckeye Club, and the Audubon Society.
As an avid nature lover, she donated many acres of her farm to the Audubon Society which has become a dedicated nature preserve called Calamus Swamp which features unique and rare plants which have survived from the glacier period. Ada was also a lifetime member of St. Joseph Catholic Church, Circleville.
Ada was known for her famous Tailgate Parties and her love for The Ohio State University Football team. She attended every possible home game, only missing recent games due to illness. Ada also relished her relationship with her farming neighbors.
Ada is survived by many relatives, including the family of Robert and Janet Curl, the James and Nancy Cooper family, the James and Marty Miller family, the Joseph Curl family, the Richard Curl family, Mary Curl, cousin Betty Parazac, and Karen and Joseph Zang. She is also survived by many loving neighbors and friends, especially Betty Brown, who as a dear life-long friend has provided much assistance to Ada throughout the years.
Ada's family is very thankful to the close-knit community of friends and neighbors who were always there for Ada to offer friendship and a helping hand!
Family will receive friends from 5pm to 7pm on Thursday, September 23, 2021, at Defenbaugh-Wise-Schoedinger Funeral and Cremation Service, 151 East Main Street, Circleville, Ohio where a rosary service will be conducted at 6:45pm. Mass of Christian Burial will be celebrated by Father Ted Machnik on Friday, September 24, 2021, at 10am at St. Joseph Catholic Church, 134 West Mound Street, Circleville, followed by burial at Forest Cemetery.
Contributions in Ada's memory may be made to Saint Joseph Catholic Church, Circleville or the Pickaway County Historical Society.