Austin Schwalbauch: No Glasses, No Problem.
- Advertisement -
The 2017 High School Football season is just days away. This means, all of our local teams have been busy preparing for this season in Two-A-Day practices, and Scrimmages. Last Saturday, the Circleville Tigers hosted the Logan Chieftains in a scrimmage which included "Game Like" simulation.
One thing that caught everyone's attention was Sophomore RB #28, Austin Schwalbauch. His running technique and ability to break tackles was not all that got our attention.
It was his glasses.
- Advertisement -
The play in the video shows Austin losing his glasses, catching them, holding them in his right hand as he continues to not only break one tackle, but three tackles, as he is pushed out of bounds.
We had the pleasure of speaking with Austin, and here is how our conversation went.
Deven: Austin, we have to ask. How often do your glasses come off during football?
Austin: Almost every time I hit. I have to hurry and catch them as I fight through the line.
Deven: Have you had to replace or repair your glasses at all?
Austin: No, actually the same pair has lasted me. Its crazy they haven't broke yet. I'm surprised they haven't.
- Advertisement -
You can see Austin, and the rest of the Circleville Tigers square off against Miami Trace on Friday, August 25th, at 7:00pm at Circleville High School Stadium. Go show your support for your Circleville Tigers!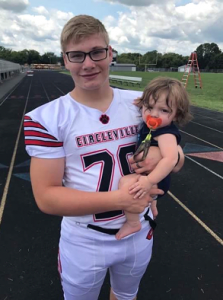 Austin with his son Bentlee on picture day at CHS
- Advertisement -