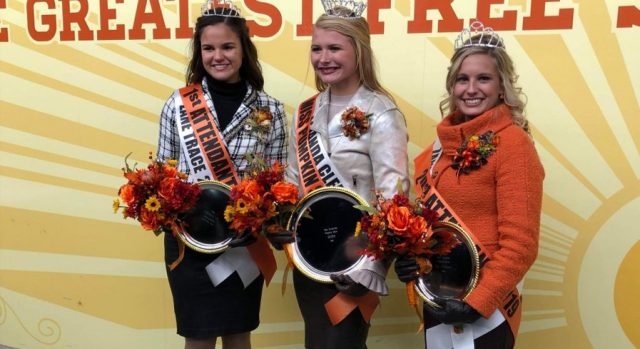 Throughout my life, the concept of "home" has always been everchanging. In fact, the older I become and the more I experience what life has to offer, the more my traditional belief of home becomes challenged. To me, home is not merely a geographical location with tangible ties. As I venture out into the world and challenge myself in mind-opening settings, home has become nothing short of a feeling, rather. A feeling that is comforting, warming, and blissful. My home consists of people I love, places that meet me with open arms, and memories that I will remember for years to come. My home lies with the Circleville Pumpkin Show, but my heart embodies this love as the Miss Circleville Pumpkin Show Queen.
Being a small-town girl with a love for people, I do not think my expression for the love for where I am from could not have been more evident growing up. Whether it was being dubbed in the eighth grade as "Most School Spirit," or becoming the 2019 Miss Circleville Pumpkin Show Queen, I wholeheartedly love my community. However, with such love, I also have a never ending curiosity and passion to learn about the world and all that it entails. As I invested more and more of my time into my community throughout my high school career, I became enamored with the experience of new places and new people. With such admiration to learn, I took for granted the area where my roots began; the people who invested their time into my character, the places that taught my fundamental life skills, and the endless outpour of support and love that was constantly cheering me on. The farther I went in exploration, the louder my hometown cheerleaders supported me. As new seasons of life immerse my time away, this sincere reflection of my roots has shown me how entirely blessed I am.
At the starting line of every big ambition of mine is my family. Having as high of aspirations as I do, my family has served as the consistent and outpouring love that keeps me grounded when I aim high. To my mom, Jessica, thank you for being my go-to shopping partner, my last-minute-bobby-pin-fixer, my "can you put my heels on for me?" assistant, and most of all, a graceful representation of what a woman in Christ looks like. You are consistent, candid, and compassionate; your love is comforting and grounding. At the end of every long day, you are exactly who I need. To my stepdad, Jeff, thank you for embracing the whirlwind of a lifestyle that is Morgan Anderson. You are one of my greatest mentors with an intellectual thought that I strive to reciprocate in myself. From being my Pumpkin Show Uber to my soccer coach, you embody charisma that is exerted through your actions. While you sometimes get the stick at the end of my long days, you teach me how to be a young woman in an expansive world that can conquer it all if she puts her mind to it. To my dad and stepmom, Richie and Angel, thank you for always being in my corner. To know that I can home and find a place with people who love me for who I am in my simplest ways is refreshing. To my grandmother, Jan, I will always be in awe of your heart. For every successful girl, there is a line of women before her who build her into who she is; you are the one I thank for my principled thought, yearning heart for Christ, and my love for life. Thank you for being a plus one to mom and I's shopping trips, as well as always making sure that I not only look my best but feel my best. To my brother, Luke, (while I do not want to give you the leverage of telling you thank you) thank you. You never fail to humble or challenge me in the same setting. To my beautiful sister, Madelyn, you are my best friend. I will be honest, mom was right when she said we would be best friends one day, and although I did not see it then, I see it now. Your sense of humor is well-timed, you are wise with philosophies that guide your heart so well, and you know how to be everything I am not. Thank you for always being my needed outfit critic, my front seat rider in the Honda Civic, and my forever friend. To my family as a whole, I love you and I appreciate you.
Being a proud Amanda-Clearcreek alumna and forever Ace, I cherish my time spent at A-C. My school district and the people within it exemplify what the true meaning of resiliency looks like. Through it all, I have felt heard, validated, and cherished as both a student and now graduate. The weeks leading up to the Pumpkin Show were some of the most exciting yet nerve-racking weeks of my junior year. However, when my mind and heart felt scattered, the people around me made me full so whole. During the week of the Pumpkin Show, every face was wearing my t-shirt, sending and saying the kindest words, and above all, being the biggest support system a girl could ask for. Fortunately, I was so blessed to run alongside our senior representative, Sydney Sharp. From nerves to headshot deadlines, Sydney's down-to-Earth heart has always made me feel so grounded. Those that know her adore her, and I am easily one of her biggest life cheerleaders. Sydney, I am so thankful that we were on a t-shirt, competed, and made the top seven together. To my sister by choice, Megan, thank you for being my best friend. There is no one else I would want to borrow dresses from, drag along to the hair salon for hours to get ready, or supply me with coffee on long days. You keep me focused and remind me of my worth when I need it most, you are the kind of best friend that so many people need and I am so blessed to have. To the class of 2021, thank you for choosing me to represent you at the 2019 Circleville Pumpkin Show. I will never forget looking off the stage between the lights and cameras and seeing you all (with posters and FatHeads of my face) — my support system.
While my list of places that feel like home continues to grow, the community of Circleville easily takes the top. Circleville is truly one-of-a-kind, and I could not feel more honored to represent it as I traveled across the state of Ohio. If it were not for the local businesses and community members, the Pumpkin Show would not nearly live up to its famed name of "The Greatest Free Show on Earth." After my court and I were crowned, we were gifted the sweetest "swag bags" from the local businesses. However, as Circleville always outdoes themselves, these "swag bags" certainly did, too. What we received was truly timeless and we constantly find ourselves wearing the gifted "swag." These mementos will serve as a representation of our time with the Circleville Pumpkin Show to our generations down the line. Thank you to Becky Mancini and all of the Maggie & Me girls for always helping me find my last-minute outfit details. While I can shop anywhere, nothing will ever beat your hometown boutique knowing your personality and style best! To Jeannie and Macie Radcliff, thank you for being the best Pumpkin Show coaches a girl could ask for. You both taught me table manners, pageant walks, and more historical facts than I can imagine; but most of all, you taught me how to be a young woman confident in her own skin and that beauty starts within your heart. From restaurant dinners with friends to sidewalk shopping, the businesses of Circleville never fail to make me feel loved when I walk into a room. Circleville, you know how to make this teenage girl feel like a true queen even without a crown on. And for that, I am forever grateful but eternally humbled by the community and the love you pour into me. Thank you for playing such a large role in my life.
A role model of mine once said, "you are a product of the people you surround yourself with." At my core, I am a teenage girl trying to have all the moving pieces and parts of life figured out; however, at the end of the day, this often looks like a young person trying their best. On October 16, 2019, when I was crowned by the 2018 queen, Elise Pickett, I knew at that moment I wanted to represent with grace. With this aspiration, I have been so thankful to have a team of people who have mentored me into this disposition that I desired. To Linda, Rob, Calee, and Dawn, thank you for being everything and anything Laynee, Katie, and I could ever need. From lemonades to record time float tear-downs, part of your heart lies in the Circleville Pumpkin Show and it is so admirable. The Greatest Free Show On Earth would not be nearly what it is today without your passion for the community and your love for the people. To Laynee, you are grounded, poised, and intentional; you carry yourself with a charisma that is so easy to love. While I find us so similar, I often find myself learning from your sincere thinking for others. You are the Buckeye to my Bobcat, and you are always a close friend I can count on. To Katie, you are the epitome of a sweetheart. How you carry yourself with such heart and inflection is inspiring, and your beauty shines not only in your appearance but the inherent character you bring to every conversation you partake in. You are resilient, easy to love, and, overall, a friend I cherish. To my court, these past two years have been nothing short of a ride, and I am so glad that you were in the front seats with me. To all involved with the Pumpkin Show, thank you for your selfless time and energy that have poured so seamlessly into Laynee, Katie, and me for these two years.
I am Morgan Anderson, your 2019 Miss Circleville Pumpkin Show Queen. An aspiring young woman who loves to learn with Christ, her family, Amanda-Clearcreek, the community of Circleville, and the best people at my roots. While home may always look and feel different the more I venture onwards, the Circleville Pumpkin Show will always be one of my most memorable facets of life. Lastly, I would like to thank all of you. I strive to make you proud, even if doing so no longer means I wear a beautiful crown and embroidered sash with my name. You all are what makes this community so sincerely special, and I am humbled to have represented it. With that, thank you for allowing me to be your 2019 Miss Circleville Pumpkin Show Queen for the last two years; I am forever indebted to your love.
The 2019 Second Attendant is Katherine (Katie) Parks, a Senior from Zane Trace High School. Her parents are Lee and Heidi Parks. Katie wants to follow in her fathers footsteps and deliver babies. She plans to attend Ohio University-Chillicothe to obtain Bachelor of Science in Nursing degree, and her goal is to become a certified Nurse Midwife
The 2019 First Attendant is Laynee Hill, a Junior at Zane Trace High School. Her parents are George and Kelly Hill. Her plans after high school are to attend college and graduate, enroll in Palmer College of Chiropractic and eventually start her own practice.
The 2019 Miss Pumpkin Show Queen, Morgan Anderson, a Junior at Amanda Clearcreek. Her parents are Jessica & Jeffrey Schubert and Richie Anderson. One day she would like to travel the world and her future plans are to be a broadcast journalist or CEO of her own company.
To see a video interview of Morgan the night of her crowning click here: https://www.sciotopost.com/circleville-pumpkin-show-miss-pumpkin-show-queen-2019/