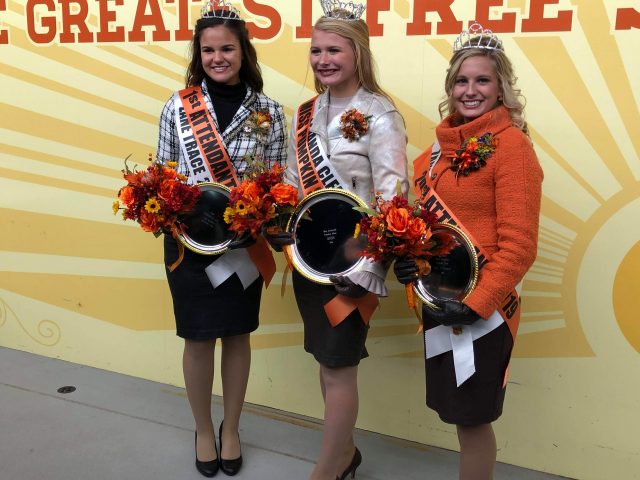 A new Miss Pumpkin Show Queen was crowned at the Pumpkin Show Park on Wednesday evening following the 2019 Miss Pumpkin Show Parade.
This year we had 13 Miss Pumpkin Show contestants and the judges had their work cut out for them on choosing just one young lady as this years winner.
The 2019 Second Attendant is Katherine (Katie) Parks, a Senior from Zane Trace High School. Her parents are Lee and Heidi Parks. Katie wants to follow in her fathers footsteps and deliver babies. She plans to attend Ohio University-Chillicothe to obtain Bachelor of Science in Nursing degree, and her goal is to become a certified Nurse Midwife
The 2019 First Attendant is Laynee Hill, a Junior at Zane Trace High School. Her parents are George and Kelly Hill. Her plans after high school are to attend college and graduate, enroll in Palmer College of Chiropractic and eventually start her own practice.
The 2019 Miss Pumpkin Show Queen, Morgan Anderson, a Junior at Amanda Clearcreek. Her parents are Jessica & Jeffrey Schubert and Richie Anderson. One day she would like to travel the world and her future plans are to be a broadcast journalist or CEO of her own company.
Below we have Morgan's reaction along side 2018 Miss Pumpkin Show Queen Elise Pickett was there to crown our new Miss Pumpkin Show Queen.
Another video showing the reaction of our new Miss Pumpkin Show Queen and her attendants.