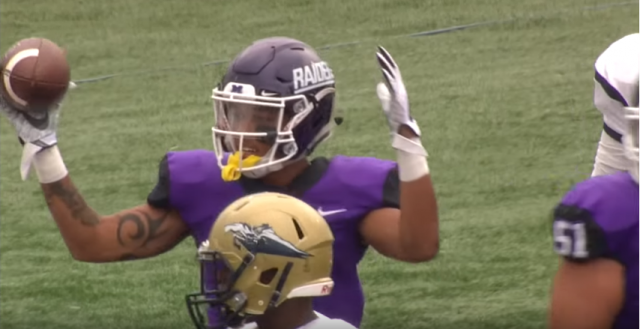 ALLLIANCE, Ohio – The No. 2 ranked Mount Union football team won its 30th consecutive season opener with a 58-0 win over North Carolina Wesleyan Saturday at Mount Union Stadium in Alliance.
Mount Union sophomore quarterback D'Angelo Fulford (Miramar, Fla./Miramar) accounted for 291 yards of total offense in his second-ever career start. He completed 16-of-21 passes for 213 yards with three touchdowns and ran for 80 yards as he led an offense that generated 449 total yards.
All three touchdown passes went to fellow sophomore Justin Hill (Circleville/Jireh Prep, N.C.) who had five catches for 90 yards. Hill also recovered a fumble in the end zone for another score.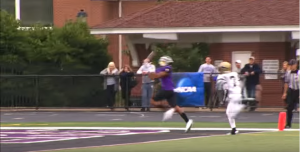 Senior Jared Ruth (Indianapolis, Ind./Pike) returned two punts for touchdowns, senior Alex Louthan (Loganville, Ga./Grayson) kicked three field goals while linebacker Trey Williams (Cardington/Cardington-Lincoln) returned an interception 75 yards to finish the scoring.
This was all more than enough for a defense that held North Carolina Wesleyan to 56 total yards in the first half and 149 for the game.
- Advertisement -
Louthan kicked a 29-yard field goal midway through the first quarter to put the Raiders up 3-0. After a three-and-out, North Carolina Wesleyan punted to Ruth, who returned it 49 yards for a touchdown to put Mount Union up 10-0. The Raiders finished the quarter with a 31-yard pass from Fulford to Hill to lead 17-0.
Fulford and Hill hooked up two more times early in the second quarter from 18 and 23 yards out that pushed the lead out to 31-0. Ruth then returned his second punt of the day this time 45 yards for a score while a Louthan 34 yard boot just before halftime left the score 41-0 at the break.
- Advertisement -
On the opening drive of the second half, Fulford tried running for a score, had the ball knocked out but Hill recovered it in the end zone for a score. Louthan added a 21-yard field goal and it was 51-0 after three quarters.
Williams wrapped things up as he intercepted a Nate Gardner pass and rumbling 75 yards for the score and the 58-0 final.
Gardner finished 8-of-25 passing for 37 yards to lead the Battling Bishops.
- Advertisement -
Mount Union takes next week off before opening Ohio Athletic Conference play on the road Saturday, Sept. 16 at 1:30 p.m. at Marietta