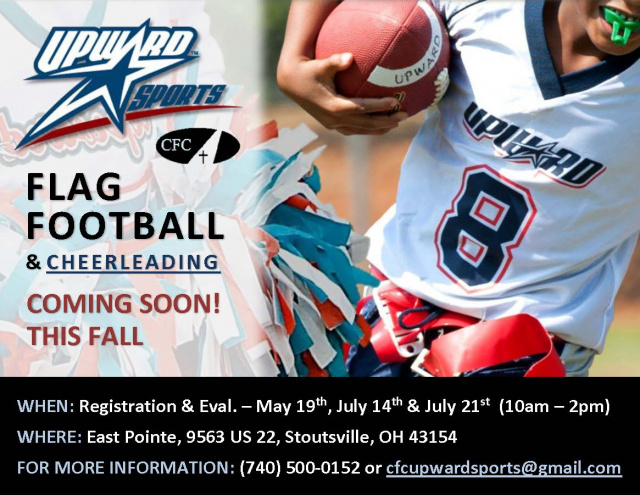 For approximately a decade, local churches in the community have partnered with Upward Sports to offer Cheerleading, Basketball, Soccer, and Flag Football. Upward Sports is the world's largest Christian youth sports provider, and in Pickaway County, we strive to promote Upward's mission – developing an athlete mentally, athletically, spiritually, and socially. This means that every child gets to play! And volunteers get to promote the discovery of Jesus through sports.
To better serve our community, the Upward Flag Football and Cheerleading league is proud to announce that the registration fee for the 2018 Fall season is only $30! Please help us spread this good news to family and friends.
All practices and games take place at Circleville First Church East Point Campus, 9563 US 22, Stoutsville, OH. Registration dates are May 19th, July 14th, and July 21st from 10am to 2pm at the East Point Campus location. Ages are 4 years old to going into 6th grade. For more information please visit Pickaway County Upward Sports on Facebook or contact at cfcupwardsport@gmail.com.