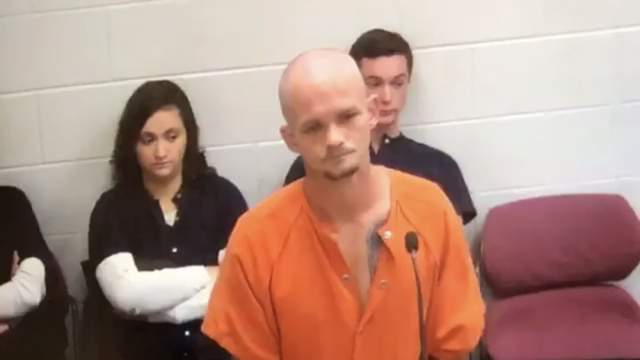 CIRCLEVILLE – Gregory Hardman appeared in court the in November and plead not guilty by reason of insanity in the murder of Raymond Dixon.
Today February 12, 2020 Pickaway Common Pleas Hardman was found incompetent to stand trial. Ordered to Twin Valley Behavioral Healthcare, Moritz Forensic Unit, to be restored to competency.
This plea must be defended in several ways in Ohio, the law reads,"In Ohio, a person is "not guilty by reason of insanity" relative to a charge of an offense only if the person proves that at the time of the commission of the offense, the person did not know, as a result of a severe mental disease or defect, the wrongfulness of the person's acts. (R.C. 2901.01(A)(14). Under Ohio law, the defense of NGRI is an affirmative defense that must be proved by the accused. The proper standard for determining in a criminal case whether a defendant has successfully raised an affirmative defense is to inquire as to whether the defendant has introduced sufficient evidence, which, if believed, would raise a question in the minds of reasonable men concerning the existence of such issue. In other words, the Defendant must prove by a preponderance of the evidence (think 51%) that the issue exists.
Law in Ohio requires that the defendant must prove the presence of a diagnosable mental disorder, but this is not in itself sufficient. The symptoms of that disorder must so impair the defendant's mental functioning that he literally does not know what he is doing or doesn't know right from wrong at the time of the offense  or make it impossible for him to control his actions.
According to a eight state study on insanity pleas less than 1% of all court cases its used and only has a 26% success rate.
More stories relating to the murder of Raymond Dixon:
---
A document of facts from Circleville Police department says that Hardman has admitted to beating the victim Raymond Dixon with a baseball bat in his home located at 205 West Main street. Hardman said that it was a mistaken identity though, that he didn't plan to attack Dixon but to attack and kill another person he knew Richard Greeno. Greeno who lives close to the victim was also questioned and released during the investigation last night.
During arraignment on September 24, 2019 Hardman was placed on a 1,000,000 bond, and judge Dumm said that he could face the death penalty for his crimes. Hardman is currently being housed at the Pickaway County Jail on the charge of Aggravated Murder. Dixon was handicapped and was wheelchair bound.
Now new charges have been placed on Hardman, that were pending investigation, but now Circleville Police have charges of Burglary, Theft, Murder, Aggravated Arson, and Felonious Assault.
Most of these charges are Felonies also that could add multiple life sentences to Hardman's case.
On September 23, 2019 the Circleville Police Department responded with The Circleville Fire Department on a complaint of the smell of smoke and a possible fire at 205 West Main Street Apartment #3.
Upon arrival, emergency responders found a male who had been assaulted and was on fire inside the apartment. Circleville Fire transported the victim to Berger Ohio Health Hospital where he was then life-flighted to the Ohio State University Medical Center. The victim ultimately succumbed to his injuries and was pronounced deceased.
During the investigation, Officers gained information that led to Gregory A. Hardman as a potential suspect. Mr. Hardman was taken to the Circleville Police Department where he was questioned in reference to the crimes. Enough evidence and statements were obtained to charge Mr. Hardman.
Officers placed Mr. Hardman under arrest for Aggravated Murder, a Felony of the 1st degree. The Ohio State Fire Marshal Office will have several Felony Arson charges as well. The Circleville Police Department worked hand in hand with the Circleville Fire Department, The State Fire Marshal's Office, Ohio Bureau of Criminal Identification and Investigation from the Ohio Attorney General's office and the Fairfield – Athens Major Crimes Unit.