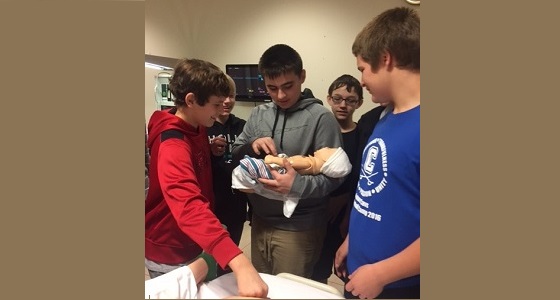 CHILLICOTHE, OH (May 31, 2018) – The school year has wrapped up across our region, and many students will spend the summer working, playing, or contemplating career goals. Those who have participated in the United Way of Ross County's Map Your Future program have a head start on career exploration, many getting that experience from Adena Health System caregivers.
"I learned that even if we're just middle schoolers, thinking about our future is important," said one Unioto Middle School participant.
Map Your Future is a program intended to help youth in grades seven through 12 explore potential career choices. This is accomplished by visiting local businesses, and getting a taste of jobs that may interest them. Adena Health System is among several businesses in the community that host the students throughout the academic year.
"Adena and its caregivers are committed to nurturing the development of our community's children, as we work to create healthy and thriving communities," said Adena's Director of Community Health Advancement Kim Jones. "We have many caregivers who are excited to share their passion for caring for others, and the career possibilities it offers young people who want to make a difference in people's lives."
Map Your Future is funded by donations from participating organizations, and primarily through a Community Connectors grant, awarded to the United Way of Ross County from the Ohio Department of Education.
An Adena High School junior who job-shadowed an Adena Radiology staff member had this to say about the experience. "My experience was very helpful. I got to see some really cool X-rays and get a feel for what the job is like. I also got to ask questions, and talk about colleges with some of the workers. It was a great experience and I'm glad that I could go."
The United Way's most recent In-kind Hours Report shows since January 2017:
· 920 students in grades six through nine have toured Adena locations as part of their career exploration;
· 488 students at various levels of middle and high school have participated in presentations by caregivers, who introduced the students to health care careers in a classroom setting; and
· Six students shadowed Adena caregivers in the areas of Nursing, Physical Therapy, Radiology, and Construction/Engineering/Architecture to learn more about specific jobs.
In the report, which covers the 13 months between Jan. 1, 2017 and Feb. 28, 2018, the United Way estimates Adena caregivers provided 2,124 mentoring hours, which it values at $105,152.
"It's pretty amazing when we stop and look at these figures," said Gina Benson, United Way of Ross County's Map Your Future Coordinator. "We become so involved in the tasks, it is good to stop and reflect on these numbers and the impact Adena Health System has had on our community and our youth through career exploration. Adena Health System is always reported as one of our success stories each time I do our grant reporting."
In addition to Adena Health System, other Ross County partners for Map Your Future include: Kenworth; Ohio University-Chillicothe; Pickaway-Ross Career Technology Center; Chillicothe-Ross County Public Library; Chillicothe-Ross Chamber of Commerce; Big Brothers Big Sisters; Lifting Up Jesus Church; Ross County Heroin Partnership Project; NAACP-Ross County Unit; Chillicothe City School; Union Scioto Schools; Huntington Schools; and Adena Schools.
To learn more about the Map Your Future program, go to www.unitedwayross.org or to volunteer, visit www.volunteerross.org. To learn more about Adena and its services, visit www.adena.org.
Photo caption: Ross County middle school students interact with patient simulators inside Adena PACCAR Medical Education Center's Virtual Hospital.