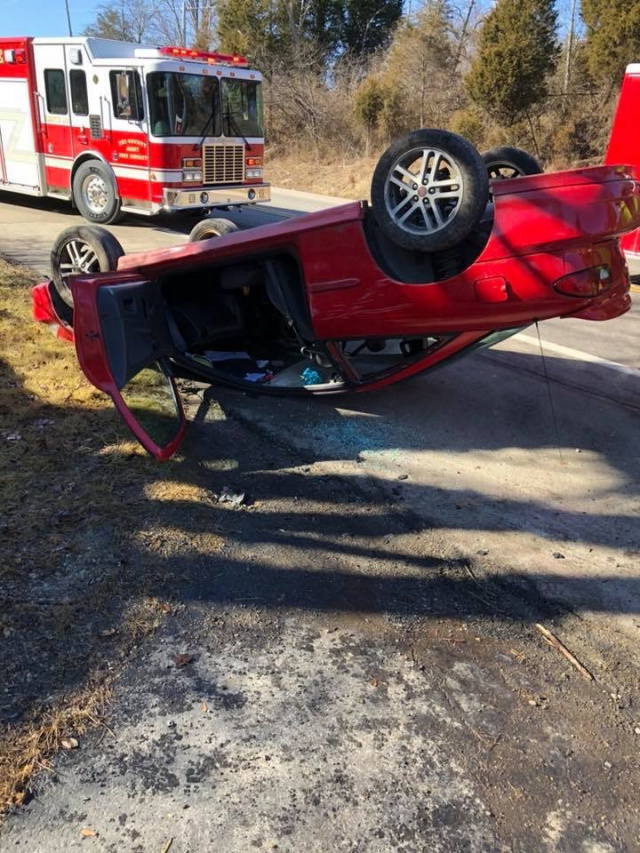 PICKAWAY – Single car accident occurred around 1 pm on 62 in Orient.  Incident was caused by a single driver who lost control of her vehicle and crossed over center line ended up driving up an embankment, and that's when the rollover happened.
"I was driving down 62 I was just hitting the ramp to Harrisburg that's when I saw the accident. What caught my eye is the mailbox flying in the air. She drove up on the embankment and car flipped over. I had to circle around, when I got there a few other people had stopped. I looked in the windows she was upside down she looked out of it. We broke the side window with a four-way, then I crawled up in there.  I noticed she was struggling so; I asked her if she spoke English because she wasn't responding to verbal communications. Concerned for her situation and being suspended by her seatbelt now for some time I got up close to her and asked her if she wanted me to let her out, she said yes.  So I pushed the button, and she fell out, then she kicked me. So I got out quick, so I didn't get kicked again," said Brown.
- Advertisement -
Witness said she sat in the top of the car until ems arrived. Witness also said she was transported to hospital mostly because of her unawareness of her situation than her injuries.  Mt. Sterling fire, highway patrol, Pickaway county sheriff where on the scene.