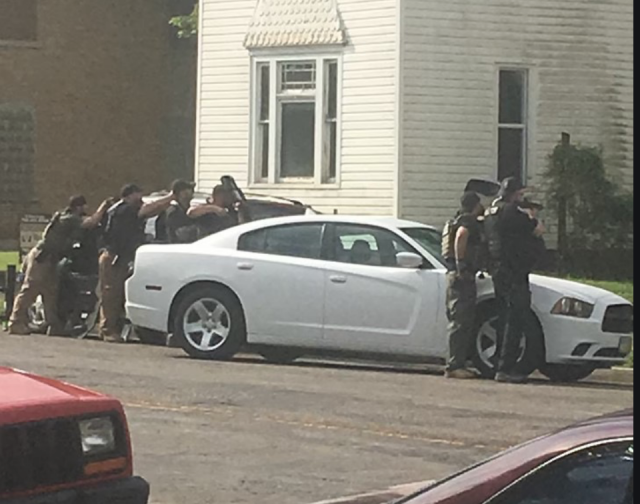 CIRCLEVILLE – The Whitehall Police department arrested a juvenile suspect from the December 2nd shooting that occurred in the rear of 850 South Hamilton road.
Gregorio Canchola 13, was arrested and charged with one count of Attempted Murder. He was located at 425 Half Ave, apartment B in the city of Cirlceville by Whitehall detectives. SWAT officers took the juvenile into custody without incident.
Investigators determined that this was not a random crime. Cachola and the victim were known acquaintances. It is believed the shooting stemmed from a argument.
On 12/2/19 at approximately 5:20 PM, Whitehall Police responded to the rear of 850 S. Hamilton Rd on the report of a shooting. Upon arrival, police found Rogelio Moran, age 21, suffering from multiple gunshot wounds. Moran was transported to an area hospital in stable condition. His wounds are not expected to be life threatening.
Whitehall Police have identified Gregorio Canchola, age 13, as the suspect who shot Moran. Canchola and Moran are known acquaintances and were at the rear of 850 S. Hamilton Rd when a disagreement occurred between the two of them. Canchola shot Moran as a result, and then fled the area on foot.
Whitehall Police are asking for help from the public in locating Gregoria Canchola. He has been charged with Attempted Murder and a warrant has been issued for his arrest. He is considered armed and dangerous. Do not attempt to stop or detain, please notify police immediately if seen.
SUSPECT INFORMATION:
Gregorio Canchola
LKA: 5033 Winslow Ave
Whitehall,OH 43213
5'-8", 190, Brown Eyes, Black Hair
Age 13