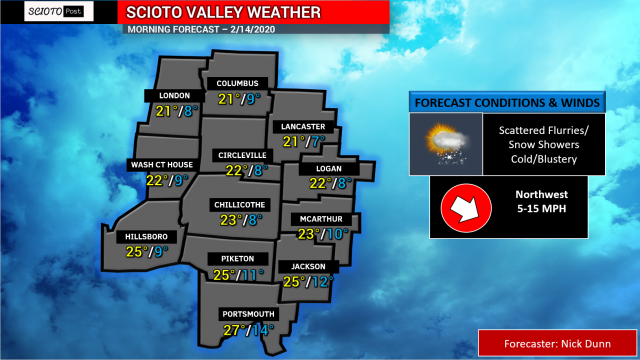 OHIO — Have you been waiting for winter? It surely is here! We have temperatures this morning in the teens to around 20 across the Scioto Valley. We will not see a ton of improvement today. Skies will remain overcast for most of the day (if not all day). Scattered snow flurries/snow showers will be present for a good portion of the day, but will not amount to much. You will want the heavier coats and hats today to keep warm! Highs will be in the 20's across the region. Winds will be from the northwest, which will only add more of a chill to the air!
We are still running behind on normal snowfall this season. For Columbus, we have yet to see 10″ of snow. As it stands, currently we are at least 8″ below normal from where we should be for this time of the year. With no significant weather systems in the forecast, we will likely stay below normal for a while yet.
Enjoy your Friday, and stay warm! Lows tonight will be in the single digits and teens, so a bit colder than this morning for everyone.