OHIO — Ready for more snow? The Scioto Valley will see a weak system bring snow through the rest of the morning and into the afternoon. You can expect around 1″ for most locations, and some will see some rain mixing in. Highs today will be in the 30's.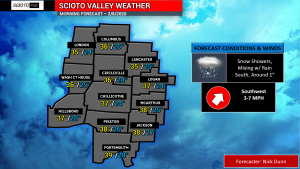 In terms of impacts, this will certainly be a "sight seeing" snow with minimal impacts. If you have morning plans, certainly watch for impacts, but this system is fairly weak and not a ton of "juice" to it. With temperatures eventually getting above freezing later, most of it will melt.
Models do show the chance for a few squalls (bursts) of snow later this afternoon and evening, but it should not be a major issue. We will watch things closely! Be sure to send us your pictures!