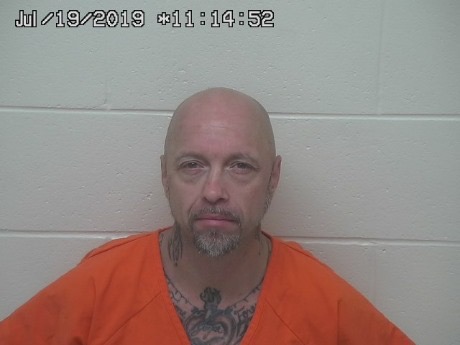 Scioto – Scioto County Sheriff Marty V. Donini announces that his office sent out a news release on July 3, 2019 with information about Paul Blevins being wanted on multiple charges, and is issuing an update on that situation.
Captain John W. Murphy stated that on Friday July 19, 2019 detectives from the Sheriff's Office along with Adult Parole, US Marshals task force, and the Ohio State Highway Patrol K-9 unit were able to surround several places on Cartro Road located in Franklin Furnace Ohio to include trailers, vacant homes and property. Captain Murphy stated that during the search of these locations the suspect was located hiding in an abandoned burnt trailer on Cartro Road Franklin Furnace Ohio where he refused to come out which resulted in officers entering the trailer and removing the said suspect.
Arrested was Paul R. Blevins age 44 of 1567 Cartro Road Franklin Furnace Ohio. Blevins is being held without bond through the Adult Parole Authority and was served an indictment warrant for grand theft auto a felony of the 4th degree.
Captain John W. Murphy stated that more charges were presented to the Scioto County Grand Jury today for grand theft auto, felony theft of a firearm, weapon under disability and breaking & entering. Murphy stated that the quick arrest was the result of all the departments working together in a joint effort to continue keeping our community safe as we continue the fight the war on drugs and crime.
Captain John W. Murphy stated that this is still an ongoing investigation and anyone with information should contact Detective Jodi Conkel @ 740-351-1091.