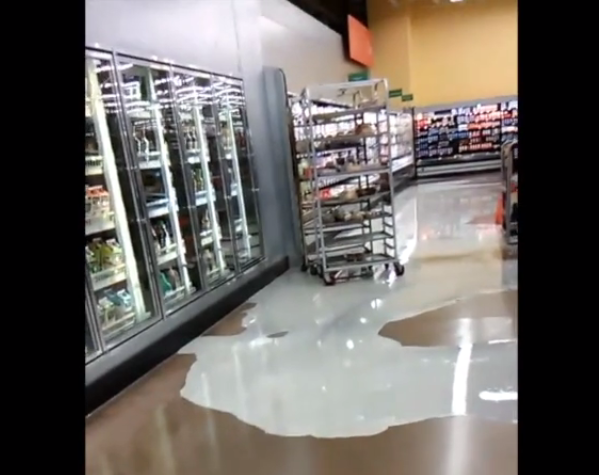 On Friday, July 21st, customers and employees alike were caught offguard when a leak developed in the Circleville Wal-Mart which flooded the dairy section. Despite the mega-store's best efforts, the odor which customers have described as "Like a livestock farm" continues to linger in much of the building.
- Advertisement -
We quoted an employee as referencing the issue as potentially being linked to a sewage overflow in the building.
As per the video clip, you can hear employees and customers comment on the state of events this past Friday:
I can't even breathe

It smells like raw sewage
I'm holding my nose

Oh it's awful. How are they even open?
We were standing here when it just started shooting out…That shouldn't be around the food.
We attempted to reach the local Wal-Mart manager for comment, and were advised he was unavailable.
UPDATE: Many people on social media and one WalMart shopper asked, "Why are they still open?" The Pickaway County General Health District was not able to immediately provide an official statement. We did learn that the Health Department had visited the WalMart on Friday to investigate the smell; however, they had not gotten a report that there was raw sewage spilt on the floor until they watched the Scioto Post video. There is a plan to revisit the site on Friday, July 28 in the morning with an inspector from the county building department to find out why the smell is occurring and to discover if there is a building issue.
- Advertisement -