Vinton County OH- On Saturday, September 5, 2020, the Vinton County Sheriff's Office received a call about two intoxicated males in a vehicle at Lake Alma State Park.
Deputies arrived and found the vehicle in the parking lot of the picnic area. The two males were detained, and both showed signs of being under the influence of possible narcotics. Deputy Jeff Morris conducted a free air sniff with K9 Maximus who alerted of possible narcotics in the vehicle. A search of the vehicle found Methamphetamine, Black Tar Heroin, Misc Pills, Meth Pipe, Syringes, and Scales.
Joshua H. Simmonds age 39 and Larry A. Rice age 44 of Wellston were arrested without incident and taken to the South Eastern Ohio Regional Jail and charged with Trafficking and Possession of Drugs and Drug Paraphernalia. A bond hearing is scheduled for Tuesday.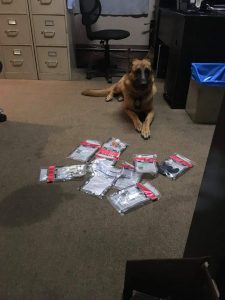 *****As always, all suspects and arrested individuals are innocent until proven guilty in a Court of Law. This release is being made on the public information of an arrest only*****
This case was handled by Deputies Jeffrey Morris, Nick Appleman, and assisted by Ohio Dept of Natural Resources.