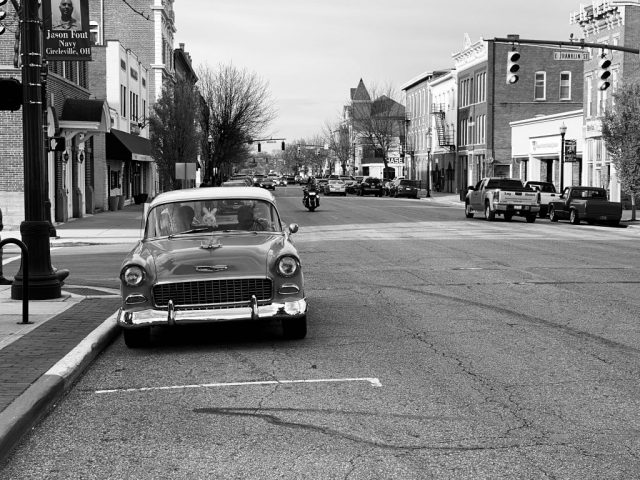 CIRCLEVILLE – Circleville crusin exploded last month to a beyond expectation for lots of people, and since that happened local people have asked for more. Creator of Take back the Strip Jeff Coleman was overwhelmed with the success.



His local group Take back the strip Circleville Cruise nights has swelled over the past week from a mere handful of people to over 2600 members.
Coleman decided that he would take his idea and create a outpouring of community by asking for donations to local food pantries that have ran dry because of the unemployment situations due to COVID-19.  He has added three drop off points for the collection of dry goods, can foods, and toiletries. All donations will go to Westfall cares and Pickaway cupboards.

Coleman tonight after checking with local officials has announced a new and improved cruise night set for May 2nd. A time stamp if 6 pm to 10 pm will be set for this event, a few rules and a new cruise route that was set up to ease traffic issues that police pointed out from the last cruise.
"With the size and popularity of the last one we are expecting even more this time! So we have made some changes to the cruise route. We have took the tips from the CPD on the last cruise and are stretching the route in the hopes of keeping traffic flowing," said Coleman.



Updates from Circleville Mayor Don Mcllroy and Chief of Police Shaun Baer have asked to change a little bit of the North Route due to blocking of the fire department and some state route access.
NEW ROUTE!!
South End:
Court St south to Walmart South entrance into their lot then back out next to KFC and back on to Court St.
North End: The group is planning on Turning Left on Rooswood and entering Ted Lewis Park on the North end and existing the park at the traffic light to head back South.
"We understand that the park is usually closed at dusk but hopefully they will grant us the same curiosity they give the Pumpkin Show and let us use the park till 10," said the group.
Coleman said they will have signs up for the cruse route on Saturday to help drivers navigate the routes.
Three drop off points will be established, one on 778 North court street at the original planed location Harold Square, one in Ted Lewis Park where the old pool parking lot was, and one at the south mill location south of the tracks. All three locations give ease to pull out of traffic for drop off. Colman asks that all donations be in a tied plastic bag so no food is loose.
"I know people will be out this weekend on the strip and that's great. There is nothing stopping people from meeting up and cruising just please be respectful of the town its citizens and the CPD.
Several local businesses have opened up during the cruise to offer food and drinks. They include:
Scioto Valley Coffee
Joyhouse coffee
Lindsey Donuts
Food vendors downtown and High Street corner
Local foods pick up
Donatos Pizza has already donated towards the cause giving away 200 individual pizzas for the food pantries.