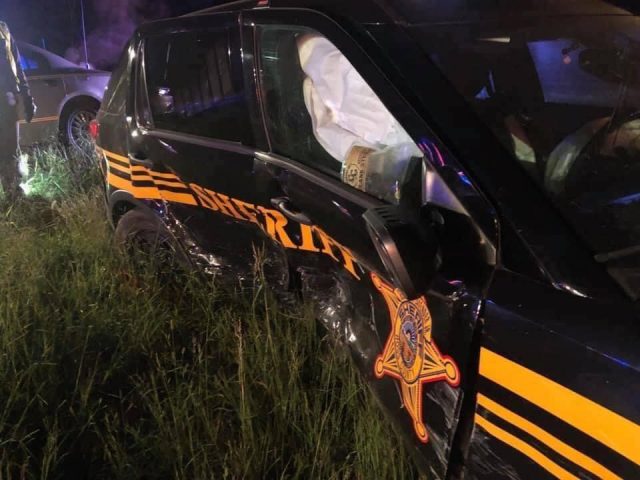 ROSS – A Ross county Deputy is giving a updated after a high speed chase ended in a possible on purpose 100 mph crash into his vehicle leaving him injured and three other people. 
The crash occurred on US 35 near milepost 19 near Chillicothe, Ross
County Ohio.
On September 19, 2020 at approximately 03:05 a. m., a Chillicothe Highway Patrol Post Trooper attempted to stop a 2005 Acura TL on Jones Road in Ross County. The vehicle did not stop and a pursuit ensued. The pursuit continued onto US 35 until the driver lost control and struck a Ross County Sheriff vehicle at 03:12 a. m.
The Acura was driven by Marvin Myers, 45 of Waverly, Ohio. The pursuit was traveling westbound on US 35 when Mr. Myers lost control and traveled into the median striking a stationary Ross County Sheriff SUV vehicle. Mr. Myers was transported to OSU Wexner Medical Center via MedFlight with serious injuries. Sheriff Deputy Brenton Davidson, 34
of Chillicothe was transported by ground to Grant Medical Center with non-life threatening injuries. Mr. Myers had two passengers. Renae Myers, 41 of Columbus, Ohio and Scotty Howard, 47 of Chillicothe, Ohio. Mrs. Myers was transported to Chillicothe Adena Hospital with non-life threatening injuries. Mr. Howard was transported to Grant Medical Center with serious injuries.
"First and foremost I want to thank you for your support of Ohio law enforcement officers.



With that said I am truly blessed and humbled with the overwhelming support and prayers I have received. In a day in age where you question the decision to wear a badge. Just seeing how many good hearted people there are reconfirms the love and passion I have for my job. It is very easy to pay attention to the negative media post and get caught up in that drama.
Update on me,
I am still at Grant Hospital and I will hopefully be going home soon. The blood/fluid build up in my abdomen has not changed in the MRI scans I've had in the past 24 hours. I will have to speak to a surgeon about my right hip due to deminished blood flow. I am very sore and beaten up but I'm upright and walking. The safety equipment in my vehicle did its job to perfection and spared me from further harm or worst.
Again I am extremely greatful for this pages support along with the support and prayers of everyone.
Respectfully,
Sgt Brenton Davidson
RCSO"