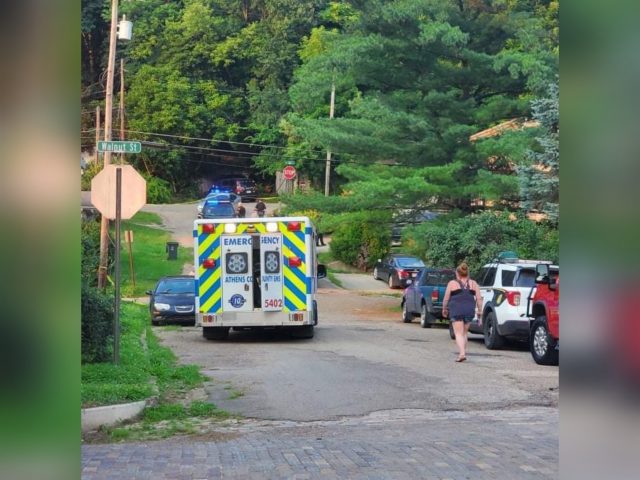 Nelsonville OH- An officer-involved shooting occurred at, 8:30 P.M on 7/27/2021 that has left the suspect dead, and two officers injured
According to police on Tuesday, July 27, 2021, at approximately 7:30 PM, police officers from the Nelsonville Police Department and Hocking College Police responded to a domestic dispute at an apartment on Third Street in Nelsonville. Ultimately, shots were fired, and two officers and a male subject were transported to OhioHealth O'Bleness Hospital in Athens for injuries. A Nelsonville Police officer is in stable condition after receiving a gunshot wound. A Hocking College Police officer also sustained minor injuries during the incident and is in stable condition.
The shooting occurred after officers confronted a man who was in a vehicle on 3rd St with his four-year-old son but refused to exit even being ordered to several times. Once the officers got close enough the person attempted to flee and ran into one of the officer's vehicles, he also attempted to run over Officer Tracy and officer Morrison with the vehicle. Officer Morrison fired several shots at the suspect and he was struck several times. Officers then moved to remove the child from the car and give life support to the suspect.
During the situation, the other officer Tracy was struck in the shoulder with a bullet. Police have not yet explained how that happened.
According to the City, the officer sustained a non-life-threatening gunshot wound, and a Hocking Police officer sustained minor injuries, but the suspect Michael Whitmer, 37, of Nelsonville, was pronounced dead following the incident.
The Athens County Sheriff's Office, The Ohio State Highway Patrol, the Ohio Bureau of Criminal Investigation, and the Athens County Prosecutors office are on scene investigating the incident. The scene is under control and there is no immediate threat to the public currently.