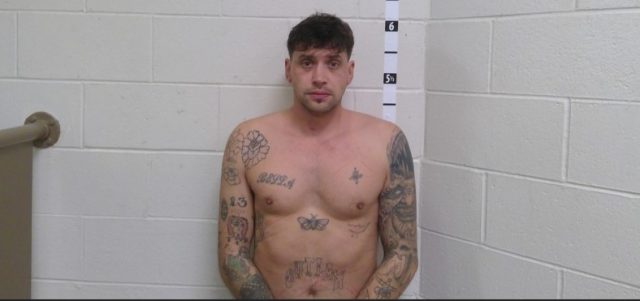 January 1, 2022, at 0127 hrs, Deputy O'Bomsawin and Deputy Kidwell were dispatched to a residence on in reference to a 911 Hang Up. Upon arrival, Deputy O'Bomsawin made contact with Zane Roosa, who stated that his 3 year old child had called 911 on his phone by accident and that everything is okay.
Deputy O'Bomsawin then asked Zane if there was anyone else in the residence and Zane stated that there was just his 4 children. Deputy O'Bomsawin then asked Zane if he could come into the residence to check and see if there was anyone else in the house because an adult female had called 911 crying from this address. Zane stated that Deputy O'Bomsawin could but he first had to make sure his kids were still sleeping because they may be scared.
Once Deputy Kidwell arrived, both Deputies were able to enter the house. Deputy O'Bomsawin then saw that there was blood on the carpet in the living room and blood on Zane's foot that looked fresh. Zane stated that he and his girlfriend got into an argument and stated that she had punched him in the lip, and that's where the blood came from. Zane stated that She had left on foot and she could possibly be at her mother's house next door.
Deputy Kidwell, then went to go search the rest of the house to make sure She wasn't hiding anywhere. While Deputy O'Bomsawin was getting information from Zane, Zane proceeded to run out the front door on foot and fled Deputies on foot.
Deputy O'Bomsawin chased after Zane and commanded that he would stop running and that he was under arrest, but Zane kept running. Due to the weather conditions and terrain, Deputy O'Bomsawin stopped chasing Zane for his safety. Deputy Kidwell and OSP units canvassed the area to try and find Zane, but were not able to.

While Deputy O'Bomsawin was searching the rest of the house, he found the victim hiding behind clothes in the bedroom closet. She had major injuries to her head and face, which she stated were from Zane. She stated that she could not see because her eyes were swollen shut and she could barely breathe through her nose. She stated that she and Zane got into a verbal argument, which turned physical. She stated that she did try and defend herself, but could only do so much. She couldn't remember how many times she was hit in the face and she believed she was only hit with Zane's fists. The victim stated that she has tried to leave Zane multiple times, but every time she tries to leave him or call someone for help, he beats her physically. She stated that she feels like she is being held hostage by Zane. She was transported to ARMC for her injuries an transported to Grant Medical for a brain bleed.
Zane's phone was tracked and he continued to move through the woods near his home and eluded deputies for several hours. Eventually, Zane was
contacted in Pike County and arrested by their deputies

Sgt. McGoye responded to the scene when deputies advised they were in a foot pursuit. He arrived and located deputies actively searching for Zane Roosa. Four of Zane's juvenile children were located in the home. They were not injured but the deplorable living conditions; coupled with the fact that all four children were staying in one over crowed bedroom and sleeping on the floors; shocked the deputies.

Children's Services was contacted and advised of this
situation. The victim had severe injuries to her face. She was photographed. She advised that she attempted to defend herself from Zane's attack and he may have some scratches on him.

The children were not injured from the incident. The children were picked up by family members to stay with them and Children Services was advised of the situation.

Deputy O'Bomsawin found 3 firearms and some ammunition in the house, so he took them for safekeeping purposes due to the nature of the circumstances. Deputy O'Bomsawin cleared the residence and met up with the other Deputies to continue to search the area for Zane.

Zane is being charged with Domestic Violence, Felonious Assault, due to the severity of her injuries, Abduction, Obstructing Official Business, Failure to Comply, and 4 counts of Endangering Children, due to the living conditions in In the house.

Zane Roosa has no prior convictions on his CCH.