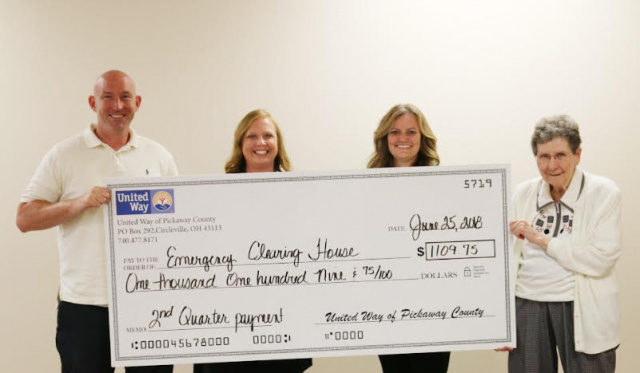 PICKAWAY – The United Way of Pickaway County (UWPC) has presented their safety partner program in the Emergency Clearinghouse Food Pantry with a second quarter campaign donation in the amount of $1,109.75.
Second quarter campaign contributions will assist the Emergency Clearinghouse Food Pantry in their continued efforts to provide food assistance to income-eligible households in Pickaway County. Campaign funds raised stem from the charitable efforts of local businesses and individual donors affiliated with the Pickaway County chapter of the United Way campaign.
Annually, the Emergency Clearinghouse offers nutritional supports to Pickaway County residents where 27.6% of the population has a household income 200% below the poverty level. At the time of their funding application, the organization had fulfilled 34,644 requests for food assistance from income eligible households.
In addition to addressing the short term needs of community residents, the Food Pantry also assists families with long-range planning in the form of recipe distribution and offers quarterly sessions on meal preparation and nutrition.
Pictured left-to-right: UWPC Board Trustees Chad Michael, Lisa Lightle, and Jama Cobb present Emergency Clearinghouse representative Mary Kay Wood with a second quarter campaign check in the amount of $1,109.75.