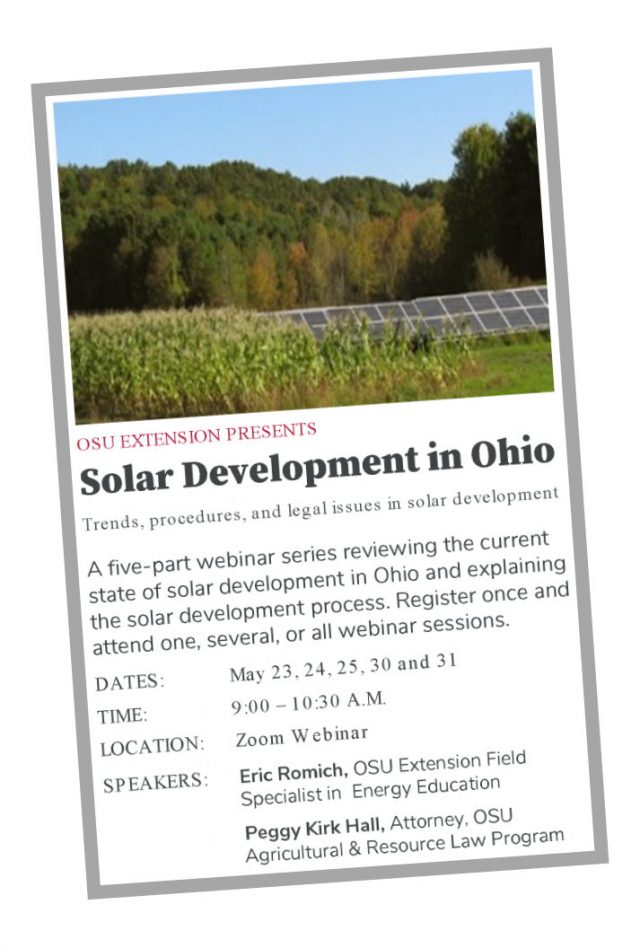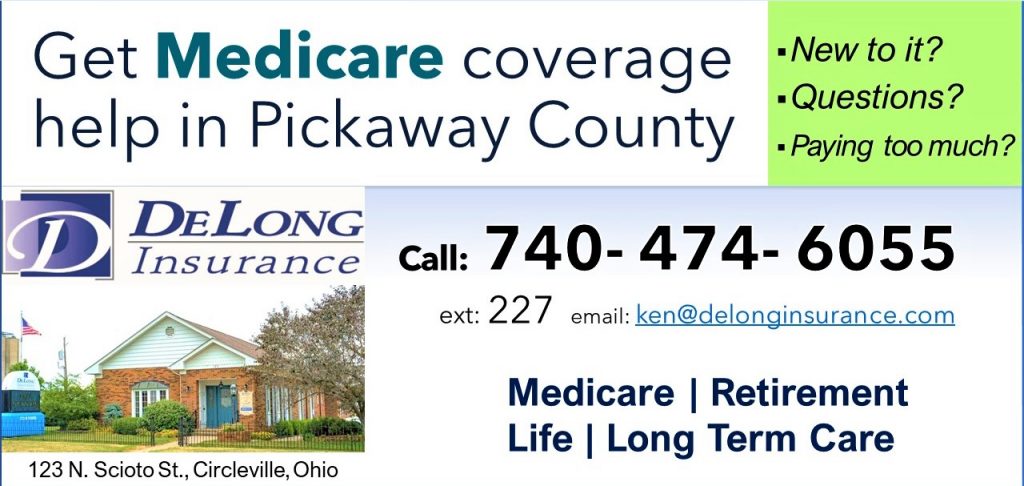 Are you concerned about seeing local farmland developed into solar farms here in Ross, Pickaway, and Fairfield counties, and elsewhere in Ohio? Free public information from the OSU Extension Office might help.
In researching another story, I came across a webinar from Ohio State University Extension: "Solar Development in Ohio – Trends, Processes, and Legal Issues with Solar Energy Development." Unfortunately, it had already run its course.
But after a few phone calls, I was able to contact one of its authors, OSU Extension Energy Education Field Specialist Eric Romich. He pointed me to where the webinar is available as a series of PDF's in the OSU Extension Energy Law Library.
I downloaded and browsed three of the five PDF's to see how much they would help a layman understand the trends, regulation, and decommissioning of these solar farms.
Here are my notes.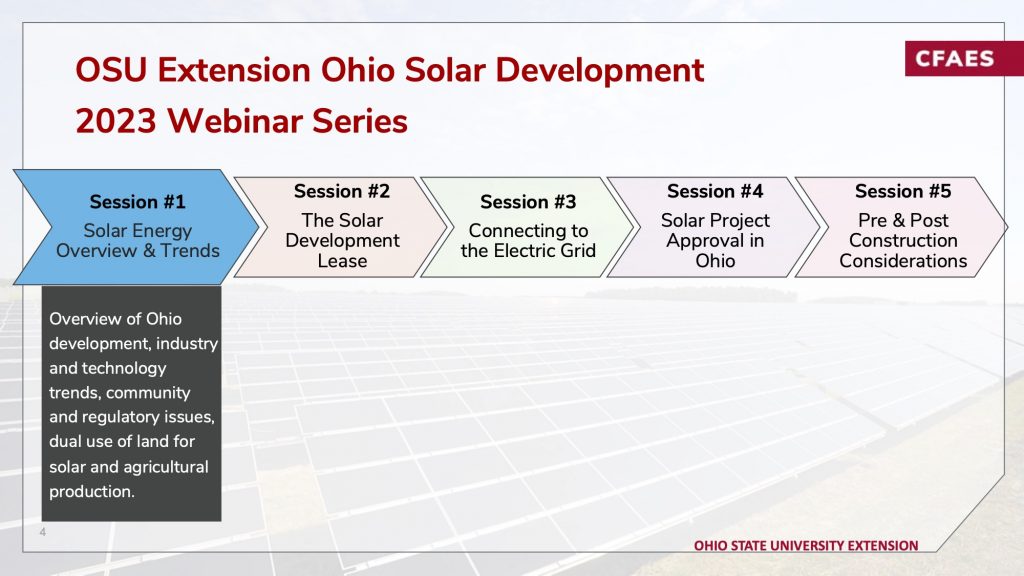 From Session 1 – Solar Development Overview and Trends
Chemical content and environmental and health risks (which are reported to be low).
Large "Utility-Scale" solar developments (more than 50 megawatts) – there are 51 projects in the state, with a map showing two in Ross, three in Pickaway, and none in Fairfield counties.
Several factors as to why there is so much development activity in Ohio
A few recent denials of construction by the state regulatory agency, the Ohio Power Siting Board (OPSB) – because of public opposition.
Of opposition by local governments bodies and citizens, a random sample of comments show 49% oppose, 47 % support (including a noticable amount of non-local supporters).
Taxation and/or the "Payment in Lieu of Taxes" (PILOT) program, partly to compensate for wear-and-tear of local roads.
Experiments in dual use of land for ag and solar (also known as co-location and agrivoltaics).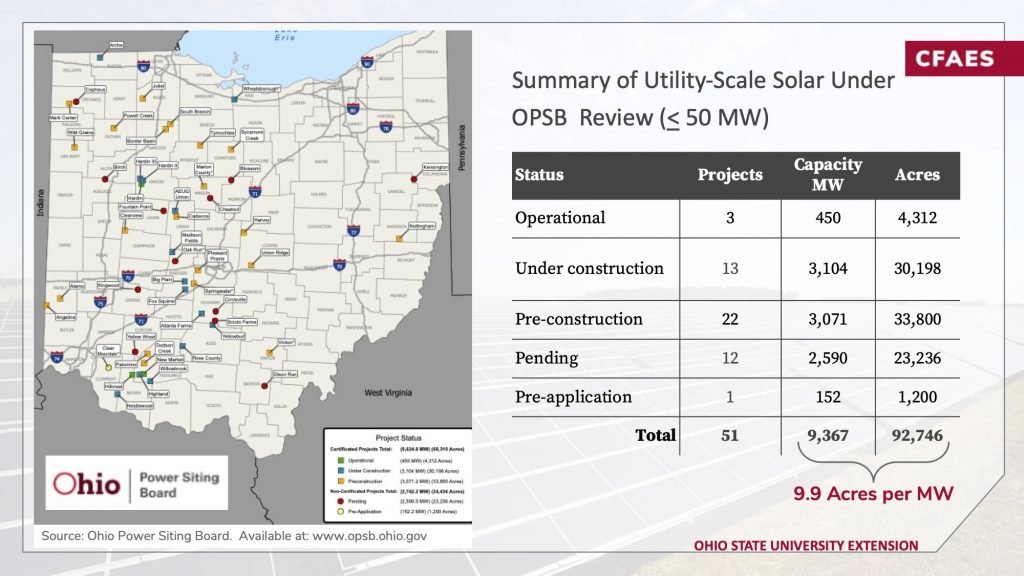 From Session 4 – The Oversight Process – for Large "utility-scale" and "small-scale" solar facilities
The Ohio Power Siting Board (OPSB) is an independent body within the Public Utilities Commission (PUCO), which regulates solar farms.
Ohio laws have changed recently: County commissioners now the authority to designate all or part of the unincorporated area of a county as where solar or wind facilities may not locate.
But, restricted area designations are subject to a referendum process.
A solar developer must hold a public meeting between 90 and 300 days before applying for a state certificate, and give a written notice to county commissioners and township trustees at least 14 days prior to the meeting.
If the county commissioners vote to prohibit the facility, then the state can't allow it either.
Solar developers must submit a comprehensive decommissioning plan – an estimate of the full cost, including the proper disposal of all components, and restoration of the land to its preconstruction state.
Developers must also post a performance bond equal to the decommissioning plan estimate.
As of April 6th, counties, townships, and municipalities have the authority to regulate "small" solar facilities of less than 50 megawatts.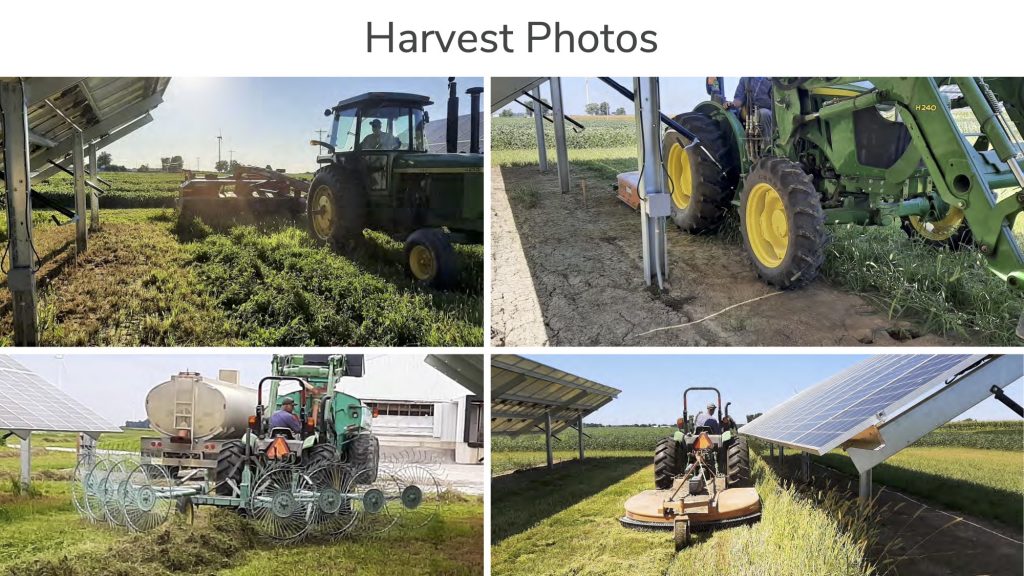 From Session 5 – Pre & Post Construction Considerations
Topsoil considerations – left in place, or removed and stockpiled.
Drainage, pilings / posts for the solar arrays.
Decommissioning rules and remediation of agricultural land.
An experiment in agrivoltaics: A Utility-Scale "Solar Hay" Research Project.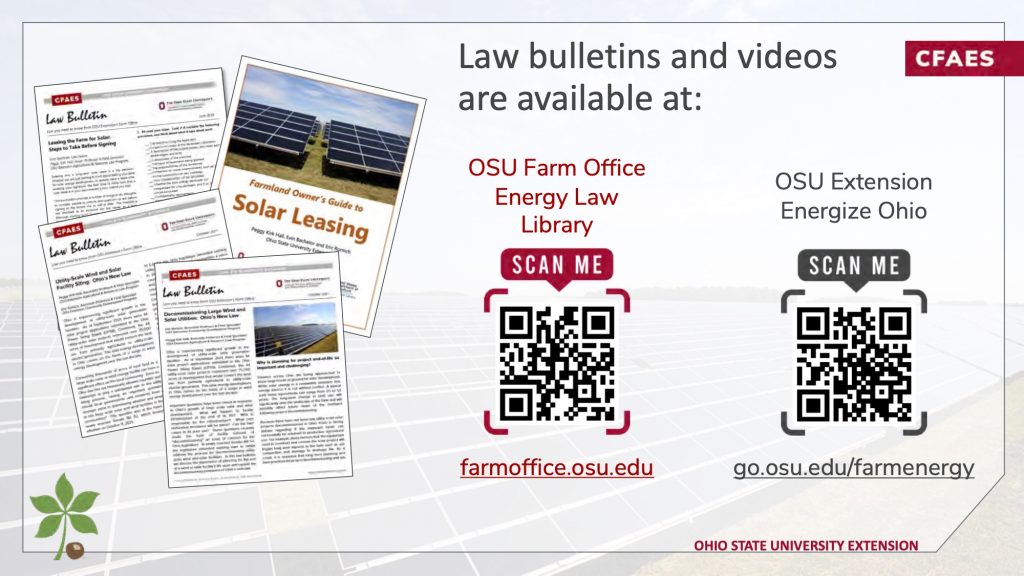 Visit the OSU Extension Energy Law Library for solar resources and webinar recordings. Additional solar energy resources are available at "Sustainable Energy Resources – Farm Energy Management."
UPDATE: On July 20th, the Ohio Power Siting Board (OPSB) adopted many new rules on the development of solar energy projects – which still need to be submitted to the Ohio Legislature before taking effect. Find them in our story.