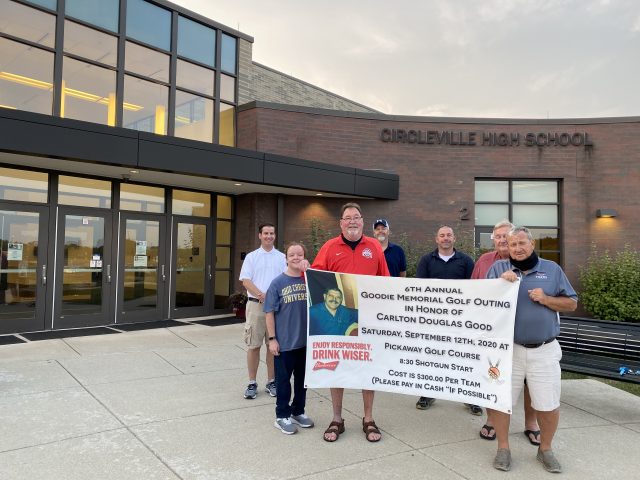 PICKAWAY – A local group has donated a significant amount of money towards a local youth organization called Foundations4youth.



The group formed eleven years ago originally called Pine Hurst Alumni but changed to Goody Memorial six years ago after a tragic accident that killed one of their members. Since then the group has aimed at giving back in honor of their lost member.
"The memorial has given over 51,000 dollars locally in the community. Our goal is to help originations that are helping kids. We have donated to New Leaf a foster agency here in Pickaway County, Child Conservation League of Circleville, and Haven House of Pickaway County. This year we thought what the Circleville Police and Foundations4Youth is a great thing for our community and we wanted to support it," Tom Smith Organizer for Goody Memorial.



Goody Memorial says this years donation of 11,500 dollars is happily given again to help the children in our communities.
"The center sadly is not open at this time due to COVID-19 restrictions, said Circleville School resource officer David McIntire, "but we have already purchased a large amount of hoodies, jackets, and warm winter gear for kids to give away this season. We also will be providing meals and blizzard bag meals over the holidays. We will make sure kids have Christmas presents, and school clothing, school supplies and anything they need. Families in need reach out to us already so we will take the stuff they need directly to them."
McIntire says that Elite Construction also donated just over 6,000 dollars to the origination. "They told us that the community has been good to them over the years here in Pickaway county and they wanted to give back to the people that support them by donating to people who need it most."
Circleville School resource officer David McIntire said that they receive help from OCU students and Circleville High school students are a lot of the volunteers and manpower behind Foundations4Youth. Kids helping Kids.
Foundations4Youth formed in 2018 is a unified effort with local businesses, faith based entities, schools, and community based organizations (CBO's) in providing a non-profit and safe, drop-in center for area youth. Foundations4Youth is locally funded through donations.