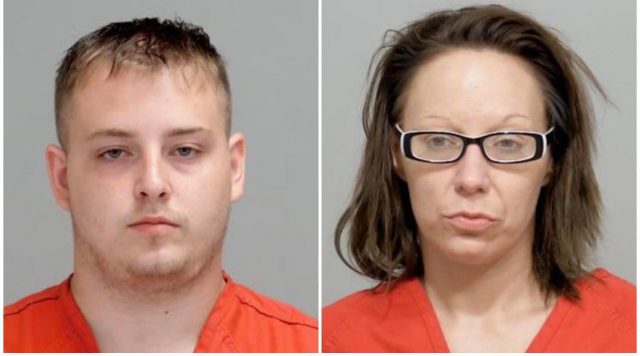 Circleville – Two people were arrested after Circleville units stopped a vehicle in a traffic stop.
According to a Circleville Police report On 07/20/2022, a 2013 blue Hyundai Accent was seen leaving 488 Stella Avenue which we have been receiving drug activity complaints on. A traffic stop occurred shortly after on the car for failure to signal prior to its turn on Stella Avenue. Upon contact with the driver Austin Hendrix and passenger Danielle Repass they were asked if any drugs were in the vehicle, the answer was, "nothing that is mine."
K9 officer Serg was deployed by officer Speakman and a free air sniff was performed around the vehicle. Serg alerted to drugs on both sides of the vehicle, at that time both suspects were detained for investigation.
Detective Harrell began searching the car and the black back pack he observed being put into the back of the car by Danielle was located directly behind the passenger seat where she was sitting. Inside of the black
back pack was a purple Crown royal bag. Inside of the purple Crown Royal bag was clear bags that had a clear rock like substance inside with white powder around it. In a separate clear bag was 5 orange pills. These were all
later brought back to station and tested 5.42g of the clear rock like substance was tested by Detective Farrelly using the MX 908 machine. This substance showed a positive test for Methamphetamine. Inside of the orange pills a positive test for benzylfentanyl, methamphetamine, ephedrine, and gabapetin. Nine suboxone strips in total were located in the same bag. Inside of a plastic container was another white powder substance that tested positive for fentanyl .55g.
Repass told police on the scene that Austin is a "mule" a known term for a transporter of drugs for a dealer.
Austin Henderix 24, was charged with four counts of possession of Drugs and for signal lights.
Danielle Repass, 37 was charged with three counts of possession of drugs and probation violation.