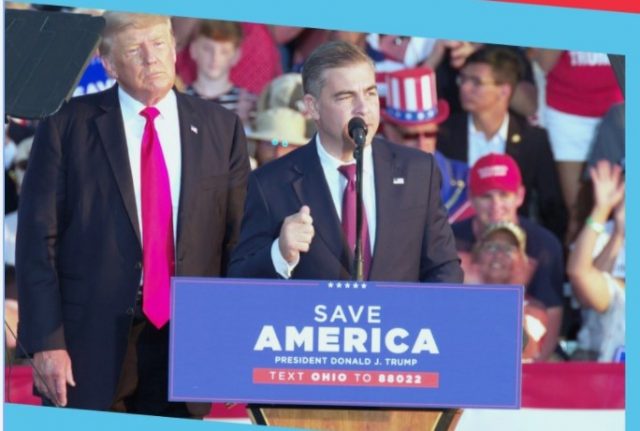 ASHVILLE – Over a dozen candidates are running for a seat in the special election for the 15th Congressional District. One of them and a Trump Endorsed will come to Ashville Ohio next month.
The seat is to fill the Republican seat of Steve Stivers who left the US House to take a job as president and CEO of the Ohio Chamber of Commerce.
Early voting in person and mail-in has already started on July 7th, and Primary Election is August 3rd.
11 members on the GOP side are trying for the nomination.
John Adams 
Mike Carey
Eric M. Clark
Thad Cooperrider, former Perry County Commissioner
Ruth Edmonds
Ron Hood
Thomas Hwang
State Sen. Stephanie Kunze
State Rep. Jeff LaRe 
State Sen. Bob Peterson
Omar Tarazi
Earlier this year Bob Peterson and Jeff LaRe came and spoke in Circleville those videos are here:
Bob Peterson : https://fb.watch/71FmoEA4XO/
Jeff LaRe: https://fb.watch/71FnYUYZ1c/
Now candidate Mike Carey who has been endorsed by President Trump will come to Ashvilles Jackie Rays Grill on Monday, August 2 at 6 pm for a meet and greet. Everyone is invited to come.