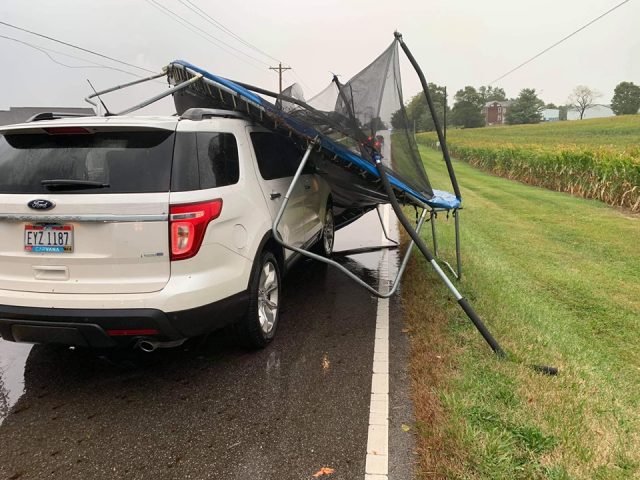 CIRCLEVILLE – Like something out of the movie twister, a couple got the surprise of their lives when driving out of Circleville during a weather event when a trampoline came out of no where and hit the car driving down the road.
Reposted on March 29th to show wind conditions are much the same
Slide left or right for more photos. 
Katie Logan Hedges who happens to be one of our Circleville council members said that they were heading Eastbound on Northridge road (SR 188) when a trampoline flew into the path.
"We were heading to pick up my Tahoe from the body shop!," said Hedges on her online post.

Luckily according to Hedges she or her or the other two occupants were not hurt, but the accident shut down the roadway for quite sometime while safety forces had to cut the trampoline off the car.
"We're just grateful that we were all safe! Vehicles, trampolines and fences can all be fixed! Huge props to Circleville Police and Circleville Fire who were there immediately and secured the scene and blocked the road. It was pouring down rain and they stayed out and took statements and sawzalled the trampoline so it could be freed from underneath the car. It's night like these when our community faces adversity – even weather events or acts of God and it's these folks who step up and step out to make sure everyone is safe. Two officers were on the scene with us, which left one officer for the rest of the city. We were lucky. There was a lot of damage in the city and downed power lines and blown transformers and car accidents. Our safety forces need supported and they need properly staffed. It's just another reason to support them this fall in voting yes for their safety levy."
Circleville Police and Circleville Fire Department responded to the call.