Touched by Cancer, a local non-profit organization is hosting their 4th annual Tailgate for Cancer this Saturday, September 14. Gates open at 10:30 a.m. for a noon kick-off game between The Ohio State Buckeyes and The Indiana Hoosiers. The event is held on the back parking lot of the VFW in South Bloomfield.
     The football game is broadcast on a 9'x15′ LED Screen. Plenty of tent space with seating is available. Participants may also bring their lawn chairs. No coolers permitted. Parking is accessed off Union Street and is free.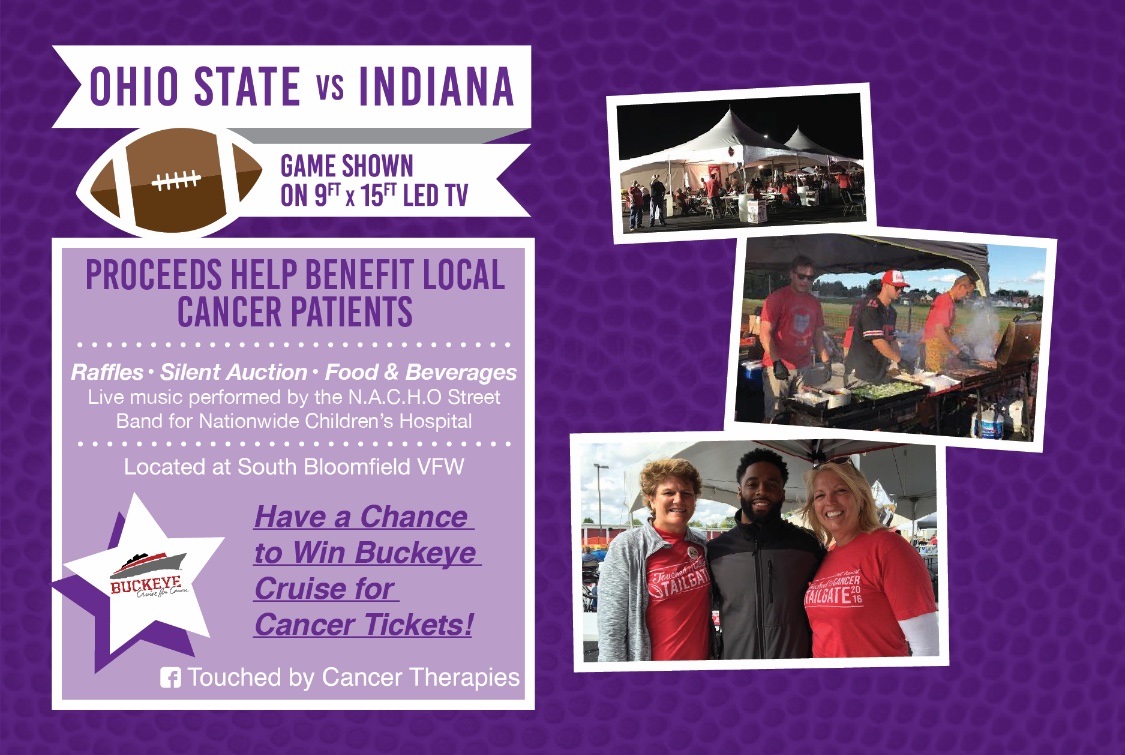 Admission is $15 in advance and $20 at the gate and includes entry, game broadcast, lunch and a musical performance by N.A.C.H.O. Street Band. The band is comprised of many past members of The Ohio State Marching Band and will perform OSU favorites during the game adding to game excitement.           Advance purchase tickets are available online on Facebook-Touched by Cancer Therapies or on Touched by Cancer's website 
http://www.touchedbycancertherapies.org.
  All proceeds benefit local cancer patients.
     Touched by Cancer provides their services in Circleville at Circleville Physical Therapy. Their mission is to provide oncologic massage, yoga, relaxation therapies, and education to those touched by cancer with the purpose of empowering each individual to create the optimum conditions for healing mind, body and spirit. All services are provided free of charge and no financial hardship is required. Touched by Cancer also host a cancer support group the first and third Tuesday of each month at Dr. Nancy Alkire's medical practice,
112 W. Main St., Circleville
.