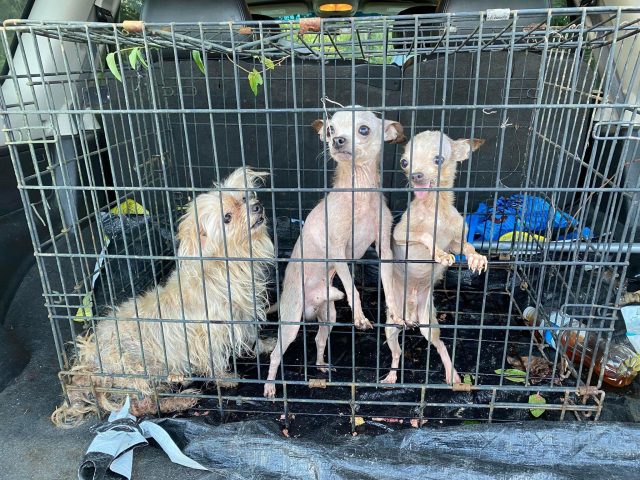 Highland County – Three puppies were found left for dead in a cage deep in the woods.
The Highland Humane Society received a call yesterday at 4:30 pm from someone who found these 3 babies left in a cage, no food, no water, in the middle of the woods.
YES in the middle of the woods! Clearly intending to let them starve to death in this crate.
The finder was riding her 4 wheeler and heard them crying and walked around until she found them. She then began calling places around to see who would take them and everyone told them they were full. They were found in another county. She contacted us and our Director immediately said bring them. It took the couple an hour to get to the shelter but they wanted to help these babies. She told us they were in bad shape and boy is she right.
Their nails are so overgrown, they are underweight. The two chihuahua males are completely hairless at this point. The female yorkie has lost half her hair and is matted with what's left. They are sneezing and coughing. They all are missing most of their teeth. The smallest boy is missing half of his bottom jaw. They are dehydrated, starving, and likely have a bladder infection or some kidney issues going on as their pee is dark and awful smelling.
According to the society, "The boys burrow in the blankets and they all 3 cuddle together. They are being fostered by our Director in her home."
"We will be calling for vet appointments tomorrow and get them started on the road to being healthier and hopefully be able to get them into homes where they can be shown what real life with loving people looks like."