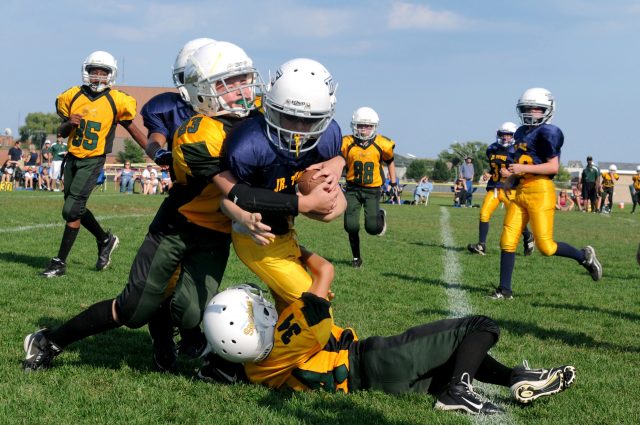 Youth Football in 2019, When to start?
This fall you will see moms, dads, family and fans who spend countless hours rooting on their favorite youth football players and teams. We love football! It has become Americas game and we can't seem to get enough, however there is one big question that doesn't seem to have a perfect answer. What's the right age to start your child in tackle football? We hear a lot about concussions, burning your child out at an early age and other injuries. We also hear that by starting a sport early you can develop competitiveness spirit, dedication, a good work ethic and get your child ahead of the game. Everyone has an opinion and or an experience to share about the subject. According to Kids Health, a child is emotionally and physically ready for organized team play by the age of 6. Seems young but maybe not, it's important to know your child and do what's best for them.
I went out to the community to find out what our local youth football coaches have to say about the matter. The feedback I received was pretty much as expected, great guys and coaches with very different views on the matter. Dustin Arledge, a thirteen year local veteran youth football coach said "1st or 2nd grade could be a good starting age depending on their ability to focus". "Forging Friendships, development and team concept skills are great assets to obtain at an early age". Jose Travis, another veteran coach offered this "I think 12 is a good age to start playing football. "It's a good age for learning and understanding what is being taught". Lastly, I was able to track down Troy Fletcher who shared his opinion that 7/8 years old is a good time to begin playing tackle football. Is there a right or wrong answer? Probably not, and more likely than not both sides are right and wrong. All coaches did agree on one thing coaching is extremely rewarding and they love what they do.
A New York Times article that was published Sept 2017 sparked national attention. They headlined the article with the following Playing Tackle Football Before 12 was Tied to Brain Problems Later in Life. Headlines like those have not been treated lightly and safety has become a tremendous concern. Unfortunately, in football like many other sports there is a possibility your child could get hurt. The biggest emphasis currently in the world of football is concussions. As stated by Mayo Clinic a concussion is a traumatic brain injury that affects your brain function. Effects are usually temporary but can include headaches and problems with concentration, memory, balance and coordination. Concussions are usually caused by a blow to the head. Its important to know that there are many programs in place to help eliminate concussions and currently one of the largest is USA football Heads Up Program as they go across the country advocating their safety procedures. They say safety (proper equipment) and coaching (teaching the core principles of proper tackling) can eliminate a lot of injuries. Proper equipment, seems like a no brainer, right? Sadly, it's extremely expensive to update the proper equipment and it takes dedication and determination with fundraising efforts. This is hard to imagine but professional football players were wearing leather helmets clear to the 1940s' before plastic helmets were introduced. To say we have come a long way in protecting our football players is an understatement. Here locally In 2015 Logan Elm was the first youth program in the country to purchase the Riddell speed flex helmets, the leader In protective technology. They raised 20K to accomplish that goal.
We love our children and we love our football. We should value the opinions of each other no matter what side of the fence you are on. I personally think it's a decision that each family has to make according to their own views and beliefs. Educate yourself, there are enough facts and information online to help make the best decision for your child and family. Check out
Usafootball.com and find out more info about the Heads Up Program.