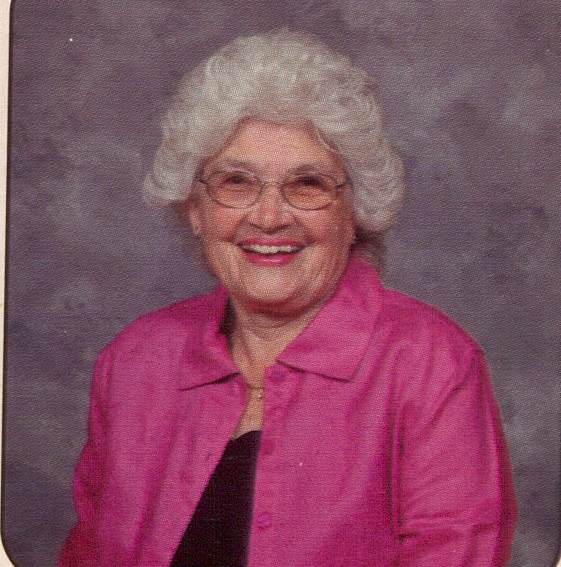 Theta Maie (Browne) DeLong, 92, passed from this life on Wednesday, October 4, 2017 at The Caring Touch home near Lockbourne, Ohio.  She was born on November 6, 1924 in Jacksonville, Florida to Clayton Polk and Lottie Maie (Scott) Browne and lived on St. Simon's Island and Jesup, Georgia before moving to Orlando, Florida and graduating from Orlando High School in 1942.  Theta worked as a secretary before meeting her husband of 52 years, Daniel K. DeLong while he was stationed with the Army Air Corps in Orlando in 1944.  They lived in California before he went overseas, then Columbus, Ohio and Winchester, Indiana before settling in Laurelville, Ohio in 1949.  Dan and Theta lived there until 1984 when they moved to Circleville.
Theta's parents, husband, son and daughter-in-law, Dan Jr. and Rosemary DeLong preceded her in death as well as her infant great-grandson, Jacob Gooley.
Theta is survived by daughters, Sharon (Steve) Neff, Cindy (Terry) Holzschuh and Chris (Dan) Patrick; son, Mike (Judy) DeLong; 11 grandchildren, Brian DeLong, Jeremy (Carly) Neff, Anitra (Karl) Guess, Adam (Amber) Gooley, Anthony (Karlyn) Neff, Andrea Conboy, Natalie (Steve) Timmons, Asa (Heather) Holzschuh, Allison (Rick) Patrick Steffens, Andrew Holzschuh and Kip Unger; 16 great-grandchildren, Ava and Brady Neff, Kyle, Keirsten, Kameron Guess, Maraya and Dylan Neff, Hannah and Miles Gooley, Breonna and Drey Conboy, Blake and Emily Holzschuh and Kali and Blaine Holzschuh, Patrick Timmons, one great-granddaughter expected in January;  and 3 great-great-grandchildren, Karson and Bryson Guess and Ryker Brewer.
Theta belonged to Trinity Lutheran Church, Ladies Oriental Shrine, Eastern Star Chapter 411, Pickaway Senior Center and Adelphi UMW. She and Dan traveled throughout the United States, Canada and Mexico with Aladdin Shrine Temple and New York Life conventions.  Theta also traveled with Brian on the NHRA circuit. She loved going to first Laurelville and then Logan Elm's basketball and football games watching her children, grandchildren and great-grandchildren play and cheer.  Little League baseball and soft ball and Pee Wee football games were also on her calendar.   She was a huge fan of Chris and Dan's Samson Monster Truck.  Theta was Mom, Mother, Grandmom and Grandma to her family as well as our "Southern Belle" as Allison liked to say.
The family will receive friends on Monday, October 9th from 2:00 – 7:00 PM at Defenbaugh-Wise-Schoedinger Funeral Home, Circleville.
Theta's Funeral Service will be held at 10:00 AM on Tuesday, October 10th at Trinity Lutheran Church, 135 E. Mound St., Circleville, with The Rev. Dr. Gerhard Kraus officiating.  Burial will be in Green Summit Cemetery.
The family wishes to extend their warmest thanks to the staff of OSU 8th floor, (Brain and Spine); Dee Krysty and staff of Caring Touch; and the staff of Berger Hospice.
Memorial contributions to the DeLong Memorial Scholarship, 9579 Tarlton Rd., Circleville, OH 43113 would be appreciated.   To send condolences visit www.schoedinger.com.