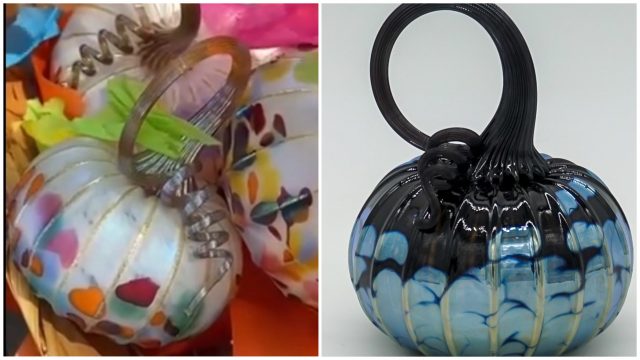 LAURELVILLE – Year after Year Circleville Native Jack Pine has been creating a Circleville Pumpkin show exclusive pumpkin, this year is no different other than a relationship between last year's pumpkin and this year.
Even though the Pumpkin show did not have a 2020 fair Jack Pine went forward with his vision on what the 2020 Pumpkin should be.
Released in September 2020s Pumpkin of the year was a dark, black pumpkin that signified the darkest times that the world was facing during the pandemic. Pine made sure to add in a "silver lining" to the Pumpkin that touched on the hope and strength of the nation.
This years Pumpkin was created as a celebration of life, "a positive outlook looking forward."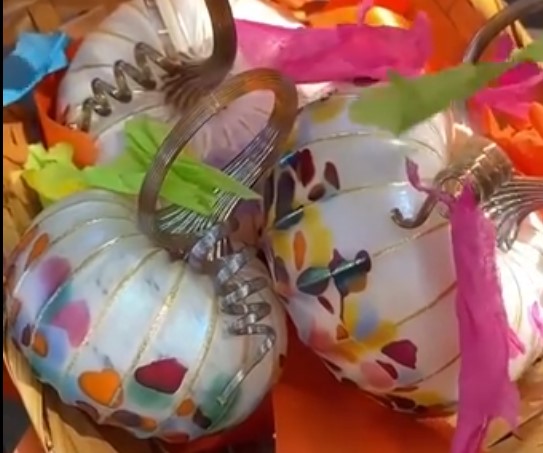 According to Jack Pines website, the 2021 Pumpkin is described as, "Crafted from luminous white glass with gleaming silver strands, these festive pumpkins are in complete contrast of last year's design. Illuminated by a confetti of colors, this year's pumpkin inspires joy and celebrates the resilience demonstrated over the past two years."
"We are coming out of the darkest times, I wanted the Pumpkin to signify a positive outlook looking forward. A rebirth, a celebration," said Pine.
Pine said that the 2021 Pumpkin was created with a Mardi Gras feel, that was for two reasons to celebrate the end of the dark times, and to also incorporate the victims of Hurricane IDA in the Louisiana New Orleans area home of Mardi Gras who was heavy on his heart as he created the iconic pumpkin. So heavy that Pine will donate a part of the sale of the pumpkin towards the victims of Ida.
"I just feel that I can make a difference this way, and it was heavy on my heart, and that comes out in my art," said Pine.
The 2021 Pumpkin will be available first at Jack Pine Glass Pumpkin Festival from Friday, September 24 through Sunday, September 26, 2021, at his studio in Laurelville. Then on his website on October 1, then he will have plenty of 2021 Pumpkins at Circleville Pumpkin show the third week in October.