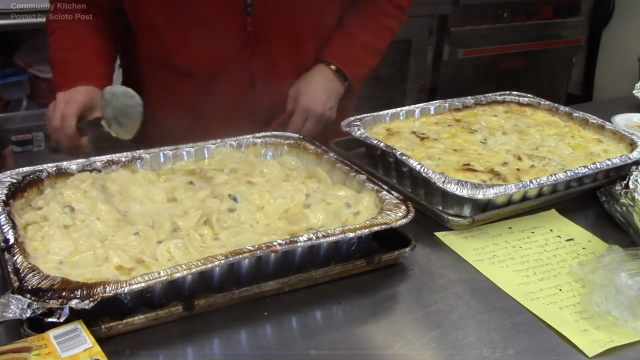 In the mid-1980's a Sunday School class from the Presbyterian Church on East Mound Street took up a discussion about World Hunger. It wasn't long before they realized there was a problem with hunger not just on a global scale, but here in Circleville so they looked to Jesus for direction. Recorded in Matthew 25, "For I was hungry and you gave me food, I was thirsty and you gave me drink, I was a stranger and you welcomed me… Truly, I say to you, as you did it to one of the least of these my brethren, you did it to me."
Working with St Philip's Episcopal Church and St. Joseph's Catholic Church, the Presbyterian Church began a soup kitchen in February 1987. At that time they served soup and a sandwich one day a week; they have since expanded, adding two more days each week, a much larger kitchen and dining area as well as a wide range of supporters from local churches, ministries, and businesses.
I spoke with Alice Harker, the Coordinator of The Community Kitchen, as she talked about her love and passion for the outreach ministry. The Community Kitchen served over 6,600 meals last year, or around 550 each month. The Kitchen is open for anyone that would like a home cooked meal, company to dine with, or a place out of the weather for an hour, it is a free meal open to all.
There are over 20 different groups that take turns preparing and serving meals. Mrs. Harker shared that there are many youth groups that raise money for their cause throughout the year, including during the Super Bowl, running a "Souper-Bowl" Fundraiser. Others make goody bags, provide hats and mittens, or even sack lunches. As she was highlighting the many groups supporting the cause, Harker said, "We are delighted to have the contributions from all of these groups, we couldn't survive without that."
On the day I was visiting, I met with The Heritage Nazarene Sunday School Class as they cooked, served and cleaned. One volunteer, Mary Cooper, a retired Home Economics teacher from Logan Elm, talked about how High School students will volunteer to meet graduation requirements for community service hours.
Since they are only open three nights a week, I asked what happens to the leftovers, to which she responded, "if we only have 12 people tonight, everything we have left, we send home with them."
Community Kitchen is located at The Presbyterian Church, 134 East Mound Street in Circleville. If you are interested in volunteering as an individual or as a group, please call (740) 474-4791 and leave a message for Alice Harker. If you would like to make a financial donation, please make checks payable to The Community Kitchen, and mail them to PO Box 147, Circleville, Ohio 43113. They do not currently have an online presence, but please call to lend a hand.