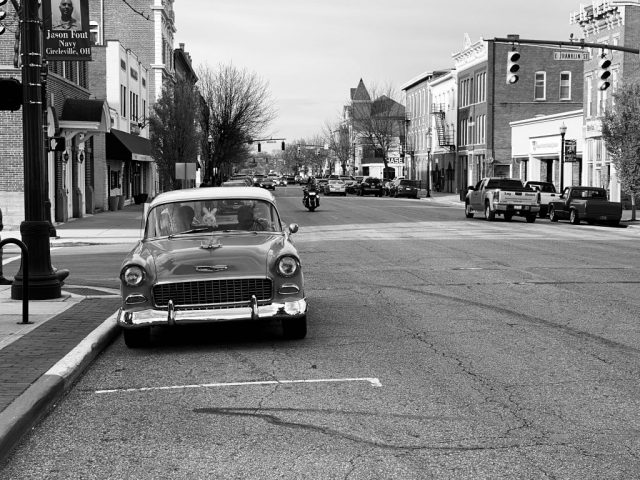 CIRCLEVILLE – Take Back the Strip event is cruisn again in September, and aiming its supercharged charitable power towards a Food Drive for the Community Cupboards.



If you dont know what the Community Cupboards are, you most likely have seen one if you are driving around the area. The cupboards are a 24/7 local resources for food and supplies for people who are hungry or in need. The cupboard is 100% charity based with take what you need, leave what you can and it has done quite well. In May the Take back the strip event donated boxes of donations by collecting non perishable goods for the charity.
Since Jeff Coleman created the Back to strip event one of the main goals has been to give back to the community in a fun filled family event where people cruse the strip like they did in the yesteryear's.
The event has been a popular one bringing people from outside the city and the county with classic cars, jeeps, and all kinds of rolling interests. Coleman knew that a great event like this should have a direction so every month the group has set itself towards donations in the area.
The strip has given to Westfall cares, The Cupboard Community, Circleville Boys Basketball program, and wounded veterans program, Back to school, and now back to feeding the needy. In October Jeff and his crew plan to aim their collections to Box65.



Jeff will be setup on the sidewalk in front of the Old Mill on South Court St collecting all you donations. They will have several volunteers ready to help with all donations to help keep traffic moving!
Examples of items to donate
* Canned vegetables
* Canned fruits
* Canned tuna or chicken
* Canned pastas, ie;
Beefaroni
* Canned beans and wieners
* Canned beans
* Soups
* Bouillon
* Cereals
* Powdered or evaporated.
milk
* Boxed Mac & Cheese
* Ramon Noodles
* Spaghetti
* Spaghetti Sauce
* Crackers and Cookies with
no filling that can melt
* Shampoo/Rinse
* Bar soap/body wash
* Tooth paste/toothbrushes
* Feminine hygiene products
* Baby Diapers
* Cat and Dog food
Note: Monetary donation can also be made that will be utilized to purchase food and toiletries.
Lets make this a fun event like it has been in the past! More Event info is here: https://www.facebook.com/events/303176044400781/