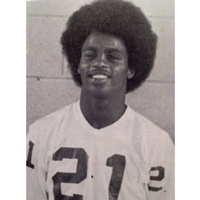 Stacey Lamarr Hitchens, 60, of Chillicothe, passed away on Saturday, July 15, 2017, at the VA Medical Center in Chillicothe, following an extended illness.
He was born September 8, 1956, in Chillicothe to the late Patricia (Hitchens) Ragland.
Left to cherish his memory are two daughters, Janelle Maughmer, of Columbus, and Stacee Hitchens, of Springfield; six grandchildren; a brother, Carl (Toni) Hitchens, of Frankfort; his step-father, Franklin Ragland, of Chillicothe; special friends, Curtis D. (Toni) Cooper, of Chillicothe, and Joan Reynolds, of Columbus; a god-daughter, Tamika (Cooper) Butler, and a host of nieces, nephews, and cousins.
Stacey attended Chillicothe High School before joining the United States Navy, where he honorably served for two years. He later became a self-employed contractor, working in the Columbus, Ohio area.
A memorial service will be held at 4:00pm on Sunday, July 23, 2017 at the Church of Deliverance, 393 N. High St., Chillicothe, OH 45601, with Pastor Obadiah Harris officiating. A burial will be held at the convenience of the family.
In lieu of flowers, memorial contributions can be made in his honor to Haller Funeral Home, 1661 Western Ave., Chillicothe, OH 45601 to help with expenses.
This article originally appeared on The Pickaway News Journal