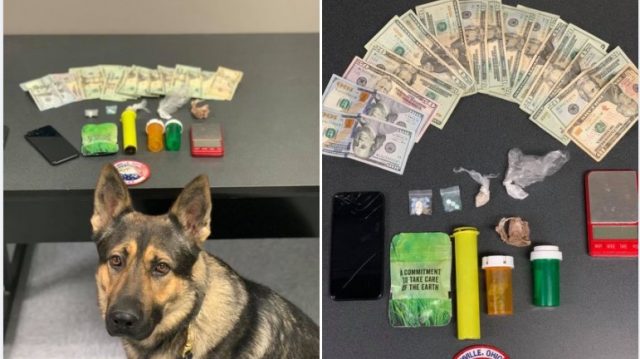 Nelsonville – The Nelsonville police department is reporting a significant bust in the small town in South east Ohio.
On December 9, 2020, at approximately 6:09 pm Officer Chris Jones observed a suspicious vehicle sitting in the Savings Bank parking lot. Officer Jones activated his emergency lights and approached the vehicle. A male subject, later identified as Christopher Jason Elliot, age 47 of Reynoldsburg, OH fled on foot from the backseat of the vehicle. Officer Jones and K9 Attila apprehended Elliot a short distance from the vehicle.
A search of Elliot's backpack revealed approximately 2.11g of powder heroin, 1.13g of black tar heroin, 1.17g of methamphetamine, miscellaneous schedule 3 and 4 pills, and $500 in cash. It was then determined that Elliot also had active felony drug warrants. Elliot was arrested and placed in the back seat of the cruiser.
Officer Jones then had Attila perform an open-air sniff of the vehicle. Attila then gave a positive indication for the presence of narcotics and the two occupants was removed from the vehicle. Officer Jones then searched the vehicle and located multiple drug abuse instruments and drug paraphernalia. It was determined the drug instruments belonged to Ernie Bridgeman, age 49 of Nelsonville. Mr. Bridgeman will be issued a summons to appear in court for the drug abuse instruments and Mr. Elliot was transported to the SEORJ and booked on the felony warrants.
All narcotics evidence seized will be submitted to the BCI laboratory for analysis. Once NPD receives the test results, a copy of the case file will be submitted to the Athens Co. Prosecutor's Office for review and to be introduced before the Grand Jury.