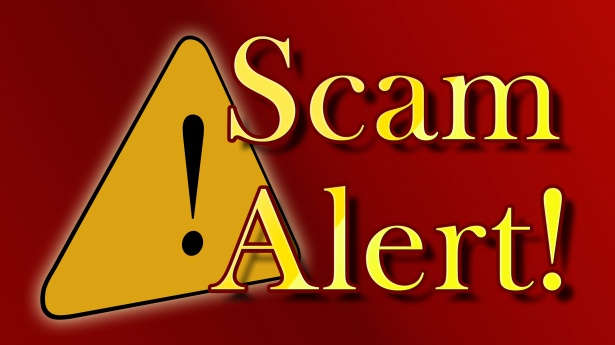 VINTON – The Vinton County Sheriff's Office has received several reports of an email being sent threatening they have information from your computer, websites visited, etc, and telling you to go to a website to pay money or they will release the information.
**THIS IS A SCAM**



Do not access the website and do not send money. Delete the email. These are sent to numerous individuals at one time in hopes that someone will be frightened enough to send money. Below is one of the emails:
From: Harmonie Bronson
Sent: Wednesday, April 22, 2020 9:14 AM
To:
Subject: Hamden
𝙸𝚝 𝚜𝚎𝚎𝚖𝚜 𝚝𝚑𝚊𝚝, &&&&&& 𝚒𝚜 𝚢𝚘𝚞𝚛 𝚙𝚊𝚜𝚜 𝚠𝚘𝚛𝚍.
𝙸 𝚗𝚎𝚎𝚍 𝚢𝚘𝚞𝚛 𝚏𝚞𝚕𝚕 𝚊𝚝𝚝𝚎𝚗𝚝𝚒𝚘𝚗 𝚏𝚘𝚛 𝚝𝚑𝚎 𝚝𝚑𝚎 𝚗𝚎𝚡𝚝 𝚃𝚠𝚎𝚗𝚝𝚢-𝚏𝚘𝚞𝚛 𝚑𝚘𝚞𝚛𝚜, 𝚘𝚛 𝙸 𝚖𝚊𝚢 𝚖𝚊𝚔𝚎 𝚜𝚞𝚛𝚎 𝚢𝚘𝚞 𝚝𝚑𝚊𝚝 𝚢𝚘𝚞 𝚕𝚒𝚟𝚎 𝚘𝚞𝚝 𝚘𝚏 𝚐𝚞𝚒𝚕𝚝 𝚏𝚘𝚛 𝚝𝚑𝚎 𝚛𝚎𝚜𝚝 𝚘𝚏 𝚢𝚘𝚞𝚛 𝚎𝚡𝚒𝚜𝚝𝚎𝚗𝚌𝚎.
𝙷𝚎𝚕𝚕𝚘, 𝚢𝚘𝚞 𝚍𝚘 𝚗𝚘𝚝 𝚔𝚗𝚘𝚠 𝚖𝚎. 𝙷𝚘𝚠𝚎𝚟𝚎𝚛 𝙸 𝚔𝚗𝚘𝚠 𝚊𝚕𝚕 𝚝𝚑𝚎 𝚝𝚑𝚒𝚗𝚐𝚜 𝚛𝚎𝚐𝚊𝚛𝚍𝚒𝚗𝚐 𝚢𝚘𝚞. 𝚈𝚘𝚞𝚛 𝚏𝚋 𝚌𝚘𝚗𝚝𝚊𝚌𝚝 𝚕𝚒𝚜𝚝, 𝚖𝚘𝚋𝚒𝚕𝚎 𝚙𝚑𝚘𝚗𝚎 𝚌𝚘𝚗𝚝𝚊𝚌𝚝𝚜 𝚊𝚕𝚘𝚗𝚐 𝚠𝚒𝚝𝚑 𝚊𝚕𝚕 𝚝𝚑𝚎 𝚘𝚗𝚕𝚒𝚗𝚎 𝚊𝚌𝚝𝚒𝚟𝚒𝚝𝚢 𝚒𝚗 𝚢𝚘𝚞𝚛 𝚌𝚘𝚖𝚙𝚞𝚝𝚎𝚛 𝚏𝚛𝚘𝚖 𝚙𝚊𝚜𝚝 𝟷𝟻𝟻 𝚍𝚊𝚢𝚜.
𝙰𝚗𝚍 𝚝𝚑𝚒𝚜 𝚒𝚗𝚌𝚕𝚞𝚍𝚎𝚜, 𝚢𝚘𝚞𝚛 𝚜𝚎𝚕𝚏 𝚙𝚕𝚎𝚊𝚜𝚞𝚛𝚎 𝚟𝚒𝚍𝚎𝚘 𝚏𝚘𝚘𝚝𝚊𝚐𝚎, 𝚠𝚑𝚒𝚌𝚑 𝚋𝚛𝚒𝚗𝚐𝚜 𝚖𝚎 𝚝𝚘 𝚝𝚑𝚎 𝚙𝚛𝚒𝚖𝚊𝚛𝚢 𝚖𝚘𝚝𝚒𝚟𝚎 𝚠𝚑𝚢 𝙸 𝚊𝚖 𝚠𝚛𝚒𝚝𝚒𝚗𝚐 𝚝𝚑𝚒𝚜 𝚜𝚙𝚎𝚌𝚒𝚏𝚒𝚌 𝚖𝚊𝚒𝚕 𝚝𝚘 𝚢𝚘𝚞.
𝚆𝚎𝚕𝚕 𝚝𝚑𝚎 𝚕𝚊𝚜𝚝 𝚝𝚒𝚖𝚎 𝚢𝚘𝚞 𝚠𝚎𝚗𝚝 𝚝𝚘 𝚜𝚎𝚎 𝚝𝚑𝚎 𝚊𝚍𝚞𝚕𝚝 𝚖𝚊𝚝𝚎𝚛𝚒𝚊𝚕 𝚘𝚗𝚕𝚒𝚗𝚎 𝚜𝚒𝚝𝚎𝚜, 𝚖𝚢 𝚜𝚙𝚢𝚠𝚊𝚛𝚎 𝚠𝚊𝚜 𝚊𝚌𝚝𝚒𝚟𝚊𝚝𝚎𝚍 𝚒𝚗 𝚢𝚘𝚞𝚛 𝚌𝚘𝚖𝚙𝚞𝚝𝚎𝚛 𝚠𝚑𝚒𝚌𝚑 𝚎𝚗𝚍𝚎𝚍 𝚞𝚙 𝚕𝚘𝚐𝚐𝚒𝚗𝚐 𝚊 𝚎𝚢𝚎-𝚌𝚊𝚝𝚌𝚑𝚒𝚗𝚐 𝚟𝚒𝚍𝚎𝚘 𝚌𝚕𝚒𝚙 𝚘𝚏 𝚢𝚘𝚞𝚛 𝚜𝚎𝚕𝚏 𝚙𝚕𝚎𝚊𝚜𝚞𝚛𝚎 𝚊𝚌𝚝 𝚜𝚒𝚖𝚙𝚕𝚢 𝚋𝚢 𝚝𝚛𝚒𝚐𝚐𝚎𝚛𝚒𝚗𝚐 𝚢𝚘𝚞𝚛 𝚠𝚎𝚋𝚌𝚊𝚖.
(𝚢𝚘𝚞 𝚐𝚘𝚝 𝚊 𝚒𝚗𝚌𝚛𝚎𝚍𝚒𝚋𝚕𝚢 𝚞𝚗𝚞𝚜𝚞𝚊𝚕 𝚙𝚛𝚎𝚏𝚎𝚛𝚎𝚗𝚌𝚎 𝚋𝚢 𝚝𝚑𝚎 𝚠𝚊𝚢 𝚑𝚊𝚑𝚊)
𝙸 𝚑𝚊𝚟𝚎 𝚐𝚘𝚝 𝚝𝚑𝚎 𝚌𝚘𝚖𝚙𝚕𝚎𝚝𝚎 𝚛𝚎𝚌𝚘𝚛𝚍𝚒𝚗𝚐. 𝙸𝚏 𝚢𝚘𝚞 𝚏𝚎𝚎𝚕 𝙸 𝚊𝚖 𝚖𝚎𝚜𝚜𝚒𝚗𝚐 𝚊𝚛𝚘𝚞𝚗𝚍, 𝚓𝚞𝚜𝚝 𝚛𝚎𝚙𝚕𝚢 𝚙𝚛𝚘𝚘𝚏 𝚊𝚗𝚍 𝙸 𝚠𝚒𝚕𝚕 𝚋𝚎 𝚏𝚘𝚛𝚠𝚊𝚛𝚍𝚒𝚗𝚐 𝚝𝚑𝚎 𝚙𝚊𝚛𝚝𝚒𝚌𝚞𝚕𝚊𝚛 𝚛𝚎𝚌𝚘𝚛𝚍𝚒𝚗𝚐 𝚛𝚊𝚗𝚍𝚘𝚖𝚕𝚢 𝚝𝚘 𝟿 𝚙𝚎𝚘𝚙𝚕𝚎 𝚢𝚘𝚞 𝚛𝚎𝚌𝚘𝚐𝚗𝚒𝚣𝚎.
𝙸𝚝 𝚖𝚒𝚐𝚑𝚝 𝚎𝚗𝚍 𝚞𝚙 𝚋𝚎𝚒𝚗𝚐 𝚢𝚘𝚞𝚛 𝚏𝚛𝚒𝚎𝚗𝚍, 𝚌𝚘 𝚠𝚘𝚛𝚔𝚎𝚛𝚜, 𝚋𝚘𝚜𝚜, 𝚙𝚊𝚛𝚎𝚗𝚝𝚜 (𝙸 𝚍𝚘𝚗'𝚝 𝚔𝚗𝚘𝚠! 𝙼𝚢 𝚜𝚢𝚜𝚝𝚎𝚖 𝚠𝚒𝚕𝚕 𝚛𝚊𝚗𝚍𝚘𝚖𝚕𝚢 𝚜𝚎𝚕𝚎𝚌𝚝 𝚝𝚑𝚎 𝚌𝚘𝚗𝚝𝚊𝚌𝚝𝚜).
𝚆𝚘𝚞𝚕𝚍 𝚢𝚘𝚞 𝚋𝚎 𝚌𝚊𝚙𝚊𝚋𝚕𝚎 𝚝𝚘 𝚐𝚊𝚣𝚎 𝚒𝚗𝚝𝚘 𝚊𝚗𝚢𝚘𝚗𝚎'𝚜 𝚎𝚢𝚎𝚜 𝚊𝚐𝚊𝚒𝚗 𝚊𝚏𝚝𝚎𝚛 𝚒𝚝? 𝙸 𝚍𝚘𝚞𝚋𝚝 𝚝𝚑𝚊𝚝…
𝙽𝚘𝚗𝚎𝚝𝚑𝚎𝚕𝚎𝚜𝚜, 𝚒𝚝 𝚍𝚘𝚎𝚜 𝚗𝚘𝚝 𝚑𝚊𝚟𝚎 𝚝𝚘 𝚋𝚎 𝚝𝚑𝚊𝚝 𝚛𝚘𝚞𝚝𝚎.
𝙸 𝚠𝚊𝚗𝚝 𝚝𝚘 𝚖𝚊𝚔𝚎 𝚢𝚘𝚞 𝚊 𝟷 𝚝𝚒𝚖𝚎, 𝚗𝚘 𝚗𝚎𝚐𝚘𝚝𝚒𝚊𝚋𝚕𝚎 𝚘𝚏𝚏𝚎𝚛.
𝙱𝚞𝚢 $ 𝟸𝟶𝟶𝟶 𝚒𝚗 𝚋𝚒𝚝𝚌𝚘𝚒𝚗 𝚊𝚗𝚍 𝚜𝚎𝚗𝚍 𝚒𝚝 𝚝𝚘 𝚝𝚑𝚎 𝚕𝚒𝚜𝚝𝚎𝚍 𝚋𝚎𝚕𝚘𝚠 𝚊𝚍𝚍𝚛𝚎𝚜𝚜:
1NWZSUyaPDf4kFwYoS5yDX*CRyXRM9856qR
[𝚌𝚊𝚜𝚎 𝚂𝙴𝙽𝚂𝙸𝚃𝙸𝚅𝙴 𝚜𝚘 𝚌𝚘𝚙𝚢 & 𝚙𝚊𝚜𝚝𝚎 𝚒𝚝, 𝚊𝚗𝚍 𝚛𝚎𝚖𝚘𝚟𝚎 * 𝚏𝚛𝚘𝚖 𝚒𝚝]
(𝙸𝚏 𝚢𝚘𝚞 𝚍𝚘𝚗'𝚝 𝚞𝚗𝚍𝚎𝚛𝚜𝚝𝚊𝚗𝚍 𝚑𝚘𝚠, 𝚕𝚘𝚘𝚔𝚞𝚙 𝚑𝚘𝚠 𝚝𝚘 𝚋𝚞𝚢 𝚋𝚒𝚝𝚌𝚘𝚒𝚗. 𝙳𝚘 𝚗𝚘𝚝 𝚠𝚊𝚜𝚝𝚎 𝚖𝚢 𝚙𝚛𝚎𝚌𝚒𝚘𝚞𝚜 𝚝𝚒𝚖𝚎)
𝙸𝚏 𝚢𝚘𝚞 𝚜𝚎𝚗𝚍 𝚘𝚞𝚝 𝚝𝚑𝚒𝚜 𝚙𝚊𝚛𝚝𝚒𝚌𝚞𝚕𝚊𝚛 '𝚍𝚘𝚗𝚊𝚝𝚒𝚘𝚗' (𝚕𝚎𝚝 𝚞𝚜 𝚌𝚊𝚕𝚕 𝚒𝚝 𝚝𝚑𝚊𝚝?). 𝚁𝚒𝚐𝚑𝚝 𝚊𝚏𝚝𝚎𝚛 𝚝𝚑𝚊𝚝, 𝙸 𝚠𝚒𝚕𝚕 𝚍𝚒𝚜𝚊𝚙𝚙𝚎𝚊𝚛 𝚏𝚘𝚛 𝚐𝚘𝚘𝚍 . 𝚊𝚗𝚍 𝚞𝚗𝚍𝚎𝚛 𝚗𝚘 𝚌𝚒𝚛𝚌𝚞𝚖𝚜𝚝𝚊𝚗𝚌𝚎𝚜 𝚖𝚊𝚔𝚎 𝚌𝚘𝚗𝚝𝚊𝚌𝚝 𝚠𝚒𝚝𝚑 𝚢𝚘𝚞 𝚊𝚐𝚊𝚒𝚗. 𝙸 𝚠𝚒𝚕𝚕 𝚐𝚎𝚝 𝚛𝚒𝚍 𝚘𝚏 𝚎𝚟𝚎𝚛𝚢𝚝𝚑𝚒𝚗𝚐 𝙸'𝚟𝚎 𝚐𝚘𝚝 𝚊𝚋𝚘𝚞𝚝 𝚢𝚘𝚞. 𝚈𝚘𝚞 𝚖𝚊𝚢 𝚟𝚎𝚛𝚢 𝚠𝚎𝚕𝚕 𝚙𝚛𝚘𝚌𝚎𝚎𝚍 𝚕𝚒𝚟𝚒𝚗𝚐 𝚢𝚘𝚞𝚛 𝚘𝚛𝚍𝚒𝚗𝚊𝚛𝚢 𝚍𝚊𝚢 𝚝𝚘 𝚍𝚊𝚢 𝚕𝚒𝚏𝚎 𝚠𝚒𝚝𝚑 𝚗𝚘 𝚏𝚎𝚊𝚛.
𝚈𝚘𝚞 𝚑𝚊𝚟𝚎 𝟸𝟺 𝚑𝚘𝚞𝚛𝚜 𝚝𝚘 𝚍𝚘 𝚜𝚘. 𝚈𝚘𝚞𝚛 𝚝𝚒𝚖𝚎 𝚜𝚝𝚊𝚛𝚝𝚜 𝚘𝚏𝚏 𝚊𝚜 𝚜𝚘𝚘𝚗 𝚢𝚘𝚞 𝚐𝚘 𝚝𝚑𝚛𝚘𝚞𝚐𝚑 𝚝𝚑𝚒𝚜 𝚖𝚊𝚒𝚕. 𝙸 𝚑𝚊𝚟𝚎 𝚊𝚗 𝚞𝚗𝚒𝚚𝚞𝚎 𝚙𝚛𝚘𝚐𝚛𝚊𝚖 𝚌𝚘𝚍𝚎 𝚝𝚑𝚊𝚝 𝚠𝚒𝚕𝚕 𝚝𝚎𝚕𝚕 𝚖𝚎 𝚘𝚗𝚌𝚎 𝚢𝚘𝚞 𝚐𝚘 𝚝𝚑𝚛𝚘𝚞𝚐𝚑 𝚝𝚑𝚒𝚜 𝚎 𝚖𝚊𝚒𝚕 𝚜𝚘 𝚍𝚘𝚗'𝚝 𝚝𝚛𝚢 𝚝𝚘 𝚙𝚕𝚊𝚢 𝚜𝚖𝚊𝚛𝚝.