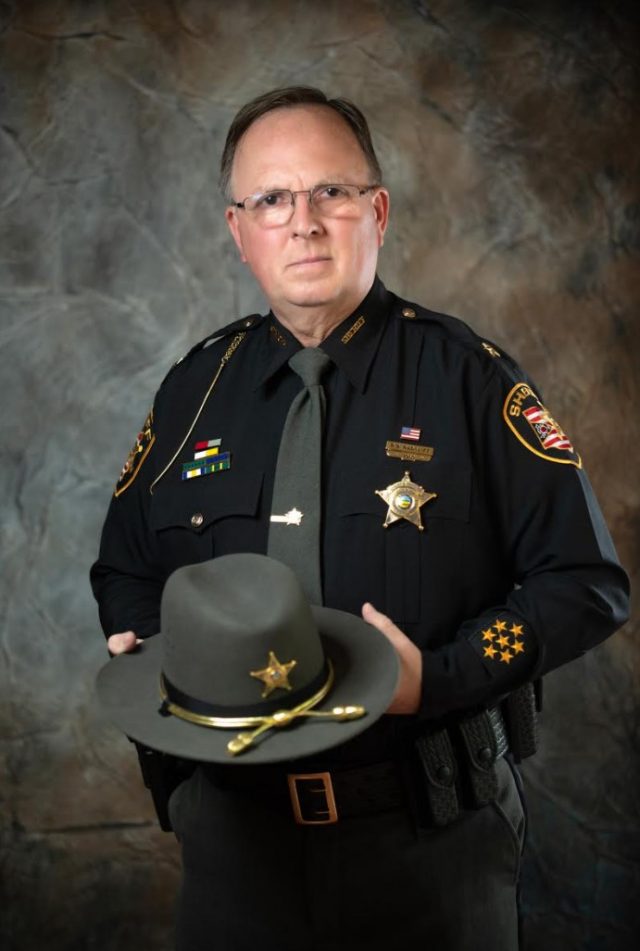 The Fraternal Order of Police, which represents three of four collective bargaining units, has endorsed Sheriff Robert B. Radcliff for re-election as Pickaway County Sheriff. The three bargaining units are made up of patrol deputies and detectives, sergeants (patrol and jail), and communications officers. This letter is one of a growing list of endorsements from other sheriffs, community leaders, elected officials, community members, and others, who are expressing their support for Sheriff Radcliff.
"I am honored by the support of the employees in these bargaining units. I appreciate the work all of my employees do every day to make Pickaway County a safe community to live and work in", Sheriff Radcliff said.
Having been accused of "doing things the same old way", Sheriff Radcliff points to innovations that have happened under his administration. Since being elected to office, the Sheriff has expanded the school resource officer program placing deputies in all of the county school districts. He has increased the number of personnel assigned to the Patrol Division by partnering with townships and villages to provide additional services. With the support of the Pickaway County Commissioners, the county 911 system was updated in 2018 increasing capabilities. The Sheriff has added three K9 officers, including an explosives detection canine, to help with drug interdiction and other law enforcement activities. The Office participates in the US 23 Task Force, Internet Crimes Against Children Task Force, and other
special task forces to combat crime and drugs. In 2019, a state-of-the-art app was purchased and deployed to help all of the school districts during an emergency to alert law enforcement officers immediately (the first sheriff's office in Ohio to do so). The Sheriff has also added two certified polygraph examiners. The Office has met the governor's standards through the Ohio Collaborative Community Police Advisory Board and is a certified law enforcement agency.
His Office has collaborated with Jobs and Family Services, ADAMH Board, Pickaway Addiction Action Coalition, the Ohio Attorney General, and others to help inmates with substance abuse issues overcome them through the Vivitrol program and other substance abuse programs. These programs include connections to social services to help them meet their basic needs. His Office, in partnership with Pickaway County Public Health, also started the Narcan program and continues to distribute it to all law enforcement agencies in Pickaway County.
"I believe with my 40 years of experience, training, first-hand knowledge of the operation of the Office, and having been Sheriff for eight years, makes me the best candidate for the Office," Sheriff Radcliff
added.
The endorsement is attached. To read the list of endorsements, go to http://keepradcliffsheriff.com.
The full letter from Endorsement from the Fraternal Order of Police Bargaining Units is attached.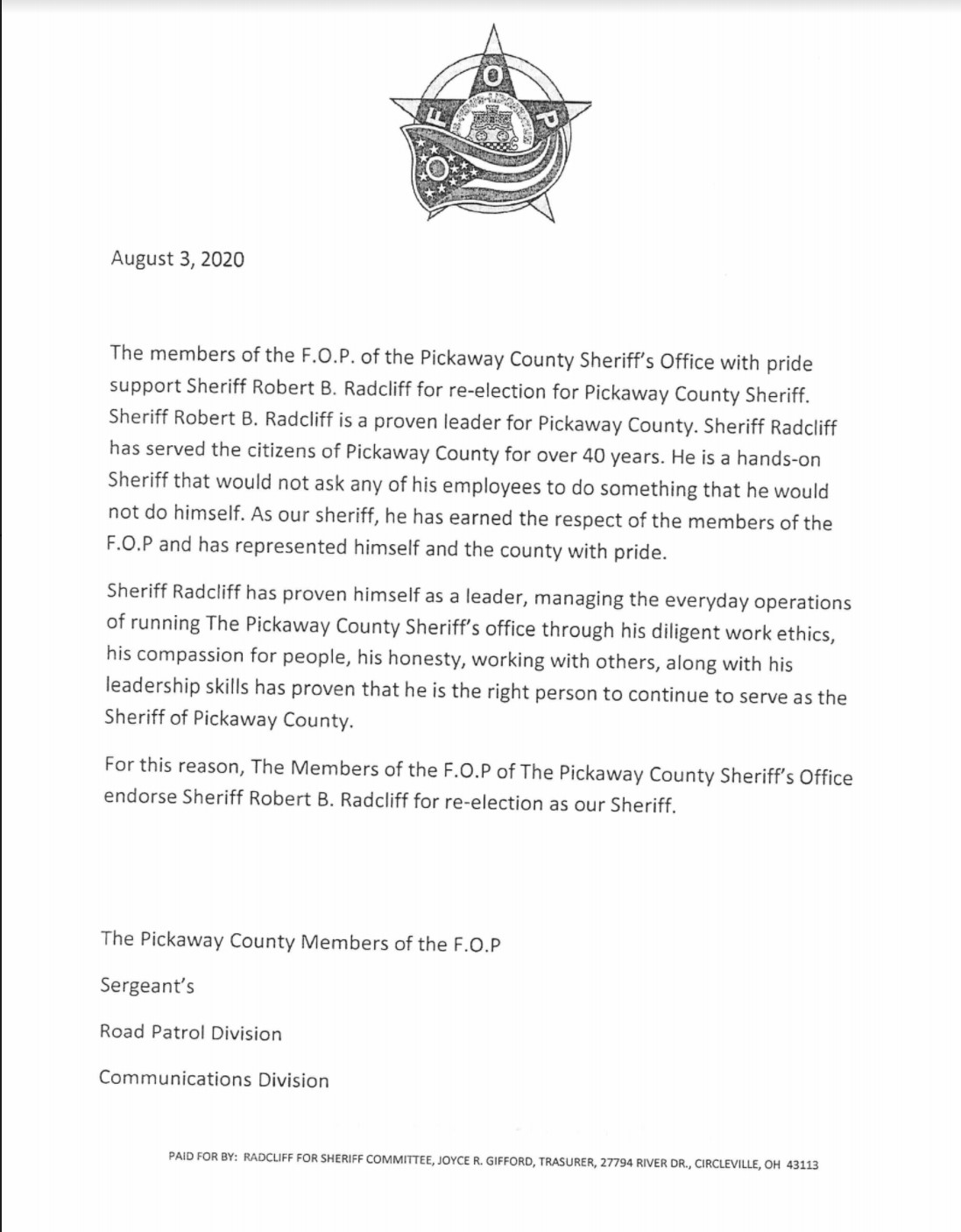 PAID FOR BY: RADCLIFF FOR SHERIFF COMMITTEE, JOYCE R GIFFORD TRASURER, 27794 RIVER DR, CIRCLEVILLE, OH 43113