OHIO — Good Morning, Scioto Valley! We got plenty of rain last night across the entire area. In fact, some spots got well over 1″ of rain and some creeks and streams saw some rises overnight. We do expect more shower and thunderstorm development today into tonight. There is some concern over severe thunderstorm development later this evening into the overnight. Much warmer and moist air will move into the region today, helping to set the stage for development of thunderstorms.
We currently think between 10PM and 6AM is the main time frame, which is when many of you are asleep. The main concern is damaging wind gusts, but a lower threat of hail or a tornado does exist for the region.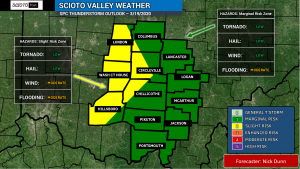 We have some part of the area under a SLIGHT RISK of severe weather for tonight, and the rest of the area is under a MARGINAL RISK of severe weather. We will repeat it on Friday as additional strong storms may linger into or redevelop on Friday, however to what extent remains unclear at this time. The best chance of severe weather should stay just west of the local area, but plan on having multiple ways to receive warnings just in case!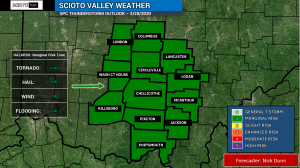 WHAT DO THESE RISKS MEAN? Get to be familiar with the graphic below, which shows what each risk level means!