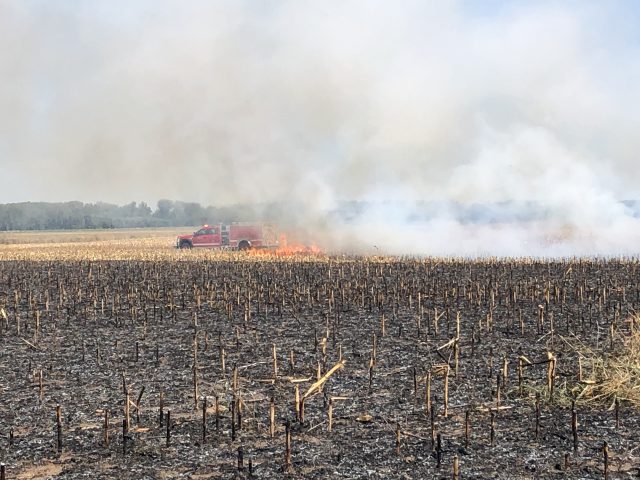 PICKAWAY – Around 1:00 Pm on September 20, 2019 a 911 call came into Pickaway County Sheriffs department of fire on both U.S. 22 and U.S. 56.

When Fire departments arrived they found grassfires on West 22, West 56 and London rd. One fire on 22 was close to a home and Circleville Concentrated on that one. Pickaway Township handled several on 56 along the right side of the roadway, one of those fires was large and took a good portion of a corn field recently harvested. In total around seven grassfires were burning at the same time.

Pickaway County Sheriff said that there were a few more fires on London road, Southwest fire department handled those.
The fire departments used brush trucks armed with low pressure hoses to put out the fires, and tanker trucks were also on scene to replenish the water in those low gallon hauling trucks.
Slide left or right for more photos 
Pickaway County Sheriff said that this possibly could have come from a truck with problem brakes sparking embers into the field, and one of the firefighters on scene said they have seen this kind of thing before in years past in dry conditions like we are seeing today. The Sheriff didn't think this was a intentional act but it is still under investigation.
Nick Dunn from Ohio News and Weather and also Sciotopost weather man said, 20% of the state is of Ohio is at least Abnormally Dry, and he said this was a ongoing condition over the last week with this unusually hot weather.
Firefighters were on scene until around 2:30, traffic was impacted on 22 and 56 during that time. Pickaway County Sheriff was also on scene.