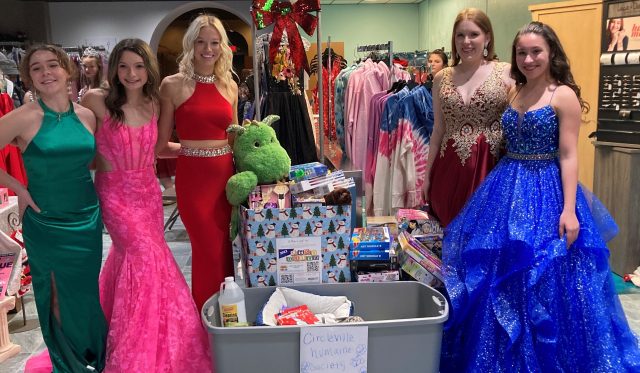 Circleville – Just before Santa and the Christmas Parade occurred in Circleville, another gathering of royalty was happening.
Uniquely Yours Prom, Pageant, and Bridal Wear along with the Deercreek Dam Days royalty welcomed visiting festival queens and their courts from across the state to the Circleville Christmas festivities on Sunday with a charity luncheon and fashion show to benefit A New Leaf Foster Care Service and the Circle Area Humane Society.
The event was held at the new location of Uniquely Yours at 122 North Court Street prior to the Christmas tree lighting in Pumpkin Show Park and the parade. The ticket for the event was a donation of an unwrapped toy or an item for the Humane Society.
After enjoying their luncheon provided by Uniquely Yours owner, Pam Kerns, the guests were treated to a fashion show of holiday casual wear and formal wear. The show was modeled by Deercreek Dam Days' royalty, Queen Izzy Picklesimer, Junior Queen Cicely Esterline, and her attendants Isabelle Capsel and Raelynne McGrath. Other county royalty also joined in the fashion show.
The hosts are thrilled to have filled several large boxes full of toys and supplies for the animals. Additionally, they held a raffle that raised $150 for their charities and would like to thank their generous sponsors including, Ashley Mia Myeress at The Beauty Bar 43113, Brittani Picklesimer at B.B. Victoria Crafts, Cindy Murphey at Style and Thrive Hair Studio, Joy House Coffee, and Megan Jenkins for Colorstreet Nails.