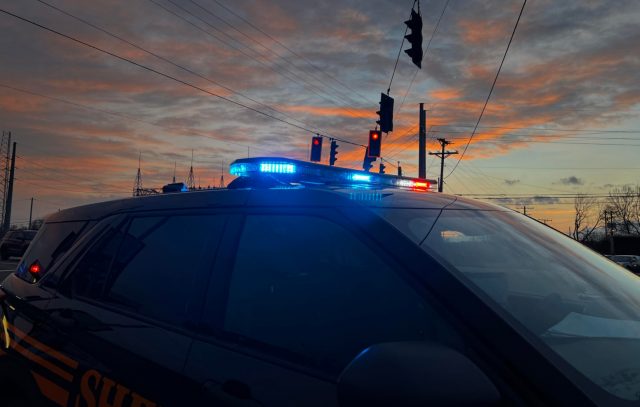 ROSS – A Ross County man was arrested after an investigation on him was started when he passed out in front of fire doors in Chillicothe.
Accoridng to the Ross County sheriff's department they were called to the scene of a truck and trailer with a man passed out inside when the man refused to leave the business location after the owner asked him to move because he was blocking a fire door.
When deputies arrived on the scene they found the vehicle and trailer parked and the truck shut off, the man behind the wheel was passed out. When starting the investigation and waking up the man the deputy determined he was under the influence. In the report he said that the man couldn't even figure out how to get his seatbelt off, here's an excerpt from the report.
"I woke him up and opened his driver's side door to check on him. There was a strong odor of marijuana inside the truck when I opened the door. The man seemed very disoriented and confused. He seemed to be under the influence of drugs. When I asked his name he mumbled a name, but it was not the same as the registered owner that was advised to me by dispatch. I asked him his last name and he continued to mumble and shrug like he didn't comprehend or didn't care. I found a wallet in the driver's side door and when I asked him if it was his, he just mumbled and shrugged. The picture on the driver's license looked just like him. At this time I asked him to go ahead and step out of the vehicle so we could figure out his situation.
He attempted to get out of the truck with his seat belt on. I told him he would have to remove his seat belt first, but he could not seem to figure out how to unbuckle the common seat belt, so he just pulled it until it was looser and stepped out of the truck with his seat belt still around him. He stated that he did not do this often. I asked him if he was referring to wearing a seat belt and he just shrugged."
During the investigation, the Sheriff's department determined that the trailer that was attached to the legally owned truck was stolen. The man had even attached a lock to the hitch of the stolen trailer to secure it from being stolen.
During a search of the truck, deputies found a clear plastic bag with various colored pills inside the truck, along with two Tupperware containers that contained scales, baggies, and a white substance that was identified as 226 grams of white crystal-like substance.
Jeffrey Parker was arrested and charged with receiving stolen property, his vehicle and the trailer were towed, he was transported to Ross County Jail. More charges on the possible drugs are pending at this time.
The trailer was reported to have been stolen out of Miamisburg Ohio