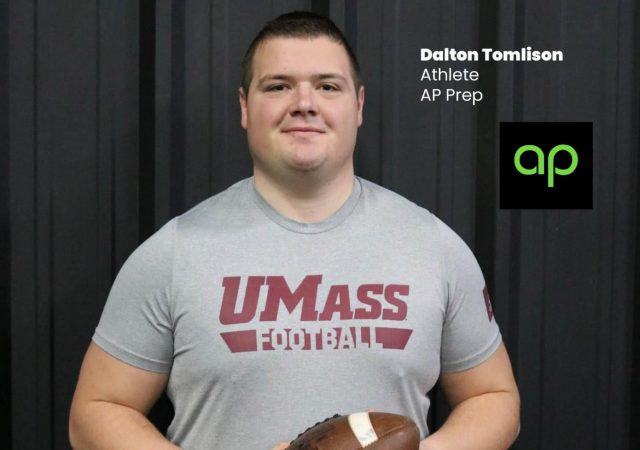 Never underestimate someone with a strong work ethic and the willingness to learn. Dalton Tomlison. Unlike most, Dalton knew what he wanted to do at just 8 years old. "I knew from 3rd grade I wanted to play division I football," Dalton stated. After joining a school with no football team in 7th grade, Dalton and his father set out to reach a goal not many can say they've accomplished. With the motivation, eagerness, and strength, Dalton and his father got to work.
The duo, with tremendous support, accomplished a dream of starting a football program at Eastern Local Schools in Beaver, Ohio. For the first few years, the team played with not much other than a field. Dalton and his teammates were able to get enough donations for helmets and the necessary equipment. After lots of diligence and fundraising, the team started to acquire bleachers, a score board, and field goal posts. The team spray painted the donated posts to match their school colors.
In 2015, Dalton was a part of the first varsity football team where they won multiple games. While Dalton played football from 3rd-7th grade as well, "the experience of building a football team from scratch was incredible."
Dalton went on to land a division one scholarship offer to Iowa Western. After one year, Dalton rode to the University of Massachusetts on a scholarship where he received a bachelor's degree in history. Dalton is currently attending Western Carolina University for grad school.
Humbly, Dalton mentioned, "Out of all three schools, I've never sat the bench. I've always started and prepared myself appropriately." Through his football career he's played tight end, guard, and center. You need to be strong, big, and mobile in your hips as a center, which Dalton primarily plays.
If I'm betting on Dalton Tomlison or Creed Humphrey, center for the Kansas City Chiefs, I'm betting Dalton. Dalton is an independent, self-motivated, strong, and humble guy looking to work. He's not going to go down easily. And AP Prep won't let him. "I'm a what you see is what you get kind of guy, and you can expect me to be the same person every day."
Dalton joined AP Prep his sophomore year of high school and is currently training for his NFL Pro Day on Tuesday, March 28. Although, his "tryout" will not be featured on TV, he expects results that day. "I wanted to join AP Prep to get quicker on my feet, become stronger and increase the mobility in my hips in order to compete at that higher level," said Dalton.
On Pro Day, Dalton will be challenged on multiple skills. This day is a way for scouts to watch college football players go through various tests and demonstrate their skills on individual drills. Dalton hopes "to get invited to an NFL minicamp and just have the opportunity to get his foot in the door."
Not only is Dalton training at AP Prep, but he's also started coaching a High School Offensive Line Skills class on Tuesdays and Thursdays 5:30p-6:30p and 6:45p-7:45p. To sign up email [email protected]. For more information on other classes at AP Prep visit apprep.info.
During last week's Joint Connection seminar with Cohen Orthopedic, Dalton had the privilege to meet Dr. Brian Cohen. If you missed this episode visit our Facebook page and click on videos. For more information about Cohen Orthopedic, visit www.cohenorthopedic.com.