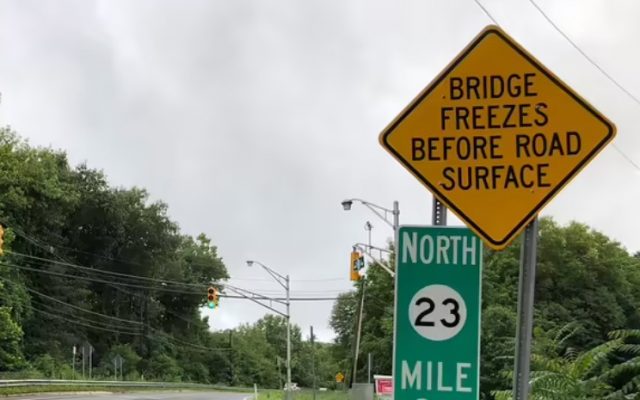 ROSS COUNTY – Several reports of crashes occurred when wet roads turned into black ice, especially on bridges, reports from Ross County Sheriff tells the tale of just a few hours of bad conditions.
01/23/23 06:29 01/23/23
Fail To Control Vehicle
On January 23, 2023 Deputy Roderick was dispatched to an injury crash on US-35 in the east bound lanes just east of SR-104. Upon
arrival, Deputy Roderick learned that the owner operator had traveled through a patch of ice while merging onto the freeway which
caused the vehicle to loose traction and spin into the center median and striking a guard rail. Medics from Union Twp responded to the
scene and transported the female to ARMC as a precautionary measure. Reinharts Towing recovered the vehicle and stored it at their lot.
A report was filed on this matter.
01/23/23 06:36 01/23/23 S BRIDGE ST CHILLICOTHE

On 1-23-23 I, Deputy Speakman, was Dispatched to the area of S Bridge St and Cooks Hill Rd for a crash. . Driver stated he was traveling north on S Bridge St and hit a patch of ice on the bridge sending him left into south
bound traffic striking the concrete barrier. Scioto EMS was on scene and cleared Him, He contacted his own Tow truck prior to my
arrival. I took photos and informed him if he needed anything to contact the Ross County Sheriff's Office. I held traffic till the road way
was clear and left the scene.
01/23/23 07:29 01/23/23 CHILLICOTHE

On 1-23-23 I, Deputy Speakman, was Dispatched to the area of US 23 and Eastern Ave in regards to a crash. Upon arrival I made
contact with A Female and Scioto EMS. She stated she was heading home and started going across the bridge on 23 and eastern ave when she hit black ice and the vehicle did a 180 degree turn and slid off the road to the left. She was medically cleared and I had Dispatch send me a tow truck, shortly after eitels towing arrived and towed the vehicle.
01/23/23 08:05 01/23/23 US 23 CHILLICOTHE

On 1-23-23 I, Deputy Speakman, Was clearing a crash on US 23 when I seen a vehicle slowing down for traffic and it hit a patch of black
ice and went off the road to the right striking a guard rail and rolling over on its side. When I pulled over to the crash I made contact with
A female driver and Huntington Twp EMS. She was taken out of the vehicle and cleared by Huntington EMS, At this time Vest Towing
arrived and got the vehicle. At this time I transported her to the gas station to wait for her ride.
01/23/23 08:08 01/23/23

UNIT 1 WAS TRAVELING NORTH BOUND ON US-23 WHEN ENCOUNTERED ICE COVERED BRIDGE. UPON CONTACT WITH ICE, UNIT ON LOST TRACTION AND ENTERED INTO MEDIAN STRIKING GUARD RAIL. MEDICS FROM SCIOTO TWP ASSESSED OPERATOR AND PASSENGER FOR MINOR INJURIES. OCCUPANTS DECLINED TRANSPORT TO ARMC. HALLS TOWING
RECOVERED VEHICLE AND STORED.