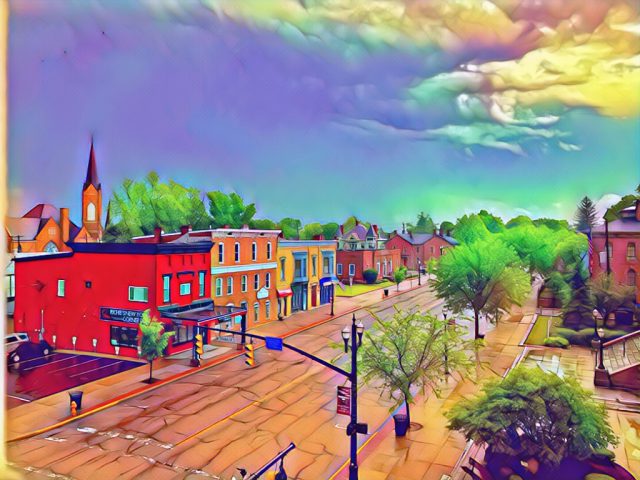 Circleville – Richie's New Corner York Corner Deli is celebrating its 11 years of business in Circleville on Monday appreciating all that have supported them throughout the years.
Richie Verito told Sciotopost that he had a vision of the deli when he first moved to Circleville, and in 2009 he started renovations on the historical building located at 206 South Court street into his vision of the delis from where he grew up, Brooklyn New York.
"Most of my vision for the subs and desserts that are created here comes from my history of living in New York, bringing a part of what I loved to Circleville has made these 11 years easy here," said Richie Verito owner of Richies New York Deli.
What were the first sandwiches you created?
"The Brooklyn Classic was one of the first subs that were conceived for the deli, and of course to make sure it was authentic I partnered up with Boars Head. For those who are unaware the Boars Head brand is from New York since 1905. Their meats and Cheeses are of quality products and give you that genuine taste of New York Deli right here in Pickaway County. The Ruben is the second, it's a simple sandwich that with the right ingredients can really stand out. We source our Jewish Rye bread from a Bakery in Macedonia, Ohio (Cleveland area).
What sets you apart from other delis
"Quality, I'm not saying that other places aren't making good food, we just aim to always have the best quality ingredients, from fresh bread baked daily, handpicking produce picked every day, everything we use needs to meet or exceed my high standards of quality. Along with great service, and a fun relaxed atmosphere. That's what sets us apart."
What do you think makes your Deli special?
"Me, joking, we try to bring different items you might love into the area, like Pattycake bakery, Jeni's Ice Cream, Gluten-free, and Vegan Options. Recently started delivering outside of Circleville and Pickaway County, we now serve Ross, Fairfield, Fayette, and Franklin County. We also added a Seasonal Pumpkin Cannoli and Gluten-free Pumpkin Cannoli Cream Brownie during Fall Season (Oct 1 – November 30)"
How will you be celebrating your 11 years?
"First by saying thank you for all of our supporters throughout the years personal and corporate. We are giving gift cards away, T-shirts, and 11% off our menu online and in-store Monday, just to say thanks for being part of us."
Richie New York Corner Deli has been highlighted on several News stations over the years, which Richie says has helped give not only him but Circleville Exposure.
ONLINE Coupon CODE – elevenyears
Order online here: https://www.rnycd.com/
"Mindy Drayer was the first person to bring me on TV (NBC4, Spectrum News) and radio (What Matters with Mindy and Makaela), and from there Maria Durant Good Day Columbus, and CW Columbus have all invited me into the studio for interviews. I appreciate that, we work hard to make our food special and it's nice to be noticed."
Click below to check out Richie's first time on TV, check out New York Deli