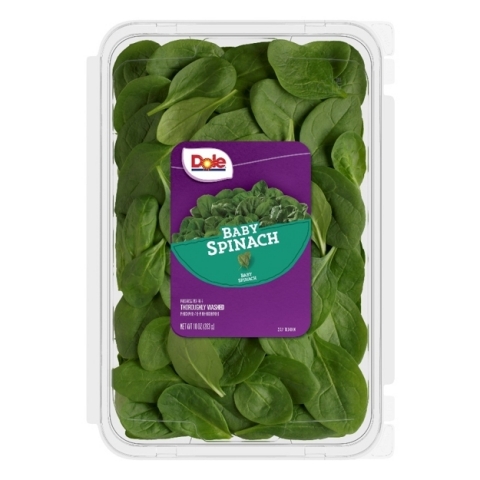 Dole Fresh Vegetables is voluntarily recalling a number of cases of baby spinach.
The products being recalled are 6 oz. Dole Baby Spinach bag and 10 oz. Dole Baby Spinach clamshell. due to a risk of salmonella contamination.
Lot code W20308A, UPC code: 0-71430-00964-2
Lot code W203010, UPC code 0-7-1430-00016-8
Both havea use-by date of August, 5, 2019.
The recalled items were distributed to Illinois, Indiana, Kentucky, Michigan, New Jersey, New York, Ohio, Tennessee, Virginia and Wisconsin.
Consumers with this product should throw them away.
Anyone with questions can call 1-800-356-3111.
<script async src="https://pagead2.googlesyndication.com/pagead/js/adsbygoogle.js"></script>
<ins class="adsbygoogle"
     style="display:block; text-align:center;"
     data-ad-layout="in-article"
     data-ad-format="fluid"
     data-ad-client="ca-pub-3467218628382211″
     data-ad-slot="6752572111″></ins>
<script>
     (adsbygoogle = window.adsbygoogle || []).push({});
</script>
<script async src="https://pagead2.googlesyndication.com/pagead/js/adsbygoogle.js"></script>
<ins class="adsbygoogle"
     style="display:block; text-align:center;"
     data-ad-layout="in-article"
     data-ad-format="fluid"
     data-ad-client="ca-pub-3467218628382211″
     data-ad-slot="6752572111″></ins>
<script>
     (adsbygoogle = window.adsbygoogle || []).push({});
</script>
<script async src="https://pagead2.googlesyndication.com/pagead/js/adsbygoogle.js"></script>
<ins class="adsbygoogle"
     style="display:block; text-align:center;"
     data-ad-layout="in-article"
     data-ad-format="fluid"
     data-ad-client="ca-pub-3467218628382211″
     data-ad-slot="6752572111″></ins>
<script>
     (adsbygoogle = window.adsbygoogle || []).push({});
</script>