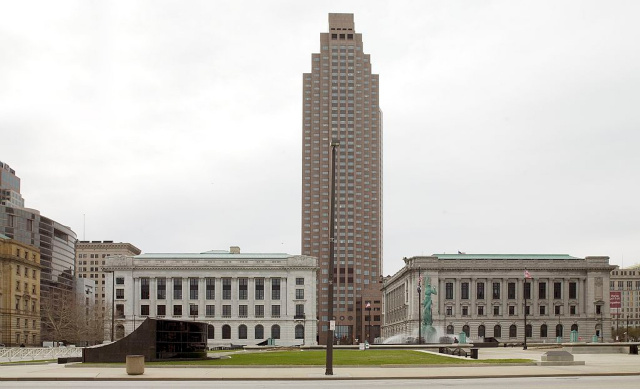 - Advertisement -
COLUMBUS
Local businessman John A. Rankin was convicted Thursday by a federal jury on 17 tax-related charges in U.S. District Court.
Rankin, 54, of Williamsport, was taken into immediate custody following the verdict and is currently being held in the Franklin County Jail awaiting sentencing. That process could reportedly take 90 days or more.
He faces more than eight years in federal prison and $500,000 in fines, according to information from the U.S. Attorney's office. According to a report from the Columbus Dispatch, he also owes an estimated $4 million to the Internal Revenue Service.
The verdict followed nearly two full days of deliberation after a two-week trial held before Chief U.S. District Judge Edmund A. Sargus Jr.
"Rankin not only failed to pay his personal taxes, but he also failed to pay the Social Security and Medicare taxes of his employees, cheating his own workers for his personal benefit," said U.S. Attorney Benjamin C. Glassman in a press release following the verdict.
- Advertisement -
The case also was handled by Ryan L. Korner, special agent in charge for the IRS Criminal Investigation Cincinnati Field Office, and was represented in court by assistant United States attorneys Daniel A. Brown and Noah R. Litton.
Rankin handled the case pro se, representing himself during the trial instead of hiring an attorney. In phone calls throughout the trial, Rankin maintained confidence that the jury would find in his favor, but he admitted to being nervous Thursday morning while waiting for the jury to come back with a verdict.
"It was the hardest thing I've ever done," he said of the trial process.
Rankin was unavailable for comment following the verdict.
A federal grand jury indicted Rankin in July 2015 with seven counts of failing to account for and pay over employment taxes to the Internal Revenue Service (IRS), six counts of willfully filing false federal individual income tax returns with the IRS, three counts of willfully filing false federal corporate income tax returns with the IRS and one count of obstructing and impeding the due administration of the IRS.
- Advertisement -
Details of the trial from the press release are as follows:
"According to court documents and testimony, Rankin operated a number of Circleville-based businesses, including Connectivity Systems, Inc., a mainframe software company that provides internet protocol development and servicing. Rankin Enterprises, LLC was a shell corporation that included the Circleville Movie House, Screening Room, J.R. Hooks Café and Tootles Pumpkin Inn. Rankin also owned the Tuscan Table, an Italian restaurant in downtown Circleville.
"Between June 2008 and April 2011 Rankin, conducting business as Rankin Enterprises and Tuscan Table, failed to account for and pay over to the IRS all federal income and FICA taxes.
"Rankin also filed false Amended U.S. Individual Income Tax Returns with the IRS for the 2005, 2006, 2007, 2008 and 2009 income tax years. He claimed a corrected adjusted gross income amount of a negative $1.7 million, when in actuality his corrected adjusted gross income was more than $8.9 million.
"In 2010, Rankin filed a false individual income tax return that reported an adjusted gross income of nearly $27,000, when his actual gross income was nearly $1.6 million.
"In addition, Rankin filed false U.S. Corporation Income Tax Returns with the IRS for Connectivity Systems Incorporated for the 2008, 2009 and 2010 income tax years. These false forms claimed a fraudulent accelerated Research & Development Credit in the amount of $1.7 million against the corporate taxes due and owing of Connectivity Systems Incorporated.
"Lastly, between January 2005 and July 2015 Rankin made false and misleading statements to agents of the IRS and concealed information from agents of the IRS."
The disposition of Rankin's business assets in Pickaway County are currently unknown. Information on those issues will be published as they become available.
- Advertisement -